Popeyes Is Hiring Musicians to Record its Iconic 'Love That Chicken' Jingle
Popeyes just launched a recruiting campaign to get out-of-work musicians singing about chicken.
Musicians are doing their best to provide entertainment at a time when concerts are completely out of the question. But Popeyes understands that clap emojis don't pay the bills, so the multinational fried chicken brand has just announced a new recruiting campaign to help out-of-work musicians live a life of wealth and celebrity, despite COVID-19 restrictions: The task for recruits? Record the brand's "Love that Chicken" jingle from home, get paid, and get on television.
"We know times are tough and venues are closed," the brand says in a video for the campaign, "so we have a new venue for musicians to play. Our ads."
Aspiring Americhicken idols should refer to Popeye's sheet music (pictured below) or play it by ear using this video. Then, musicians must post the chicken diddy to social media using #LoveThatJingle. A select few entries will air in television and radio ads. You must be 18 or older to enter, and you can't be a unionized musician. You have until May 18 to post your video.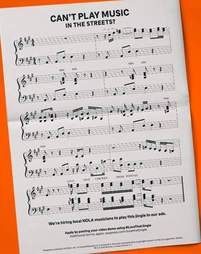 Courtesy of Popeyes
While Popeye's is known more for its superior fried chicken sandwich than for its commitment to the music scene, it makes sense that a chain founded in Louisiana would see the importance in supporting the people who soundtrack the streets of New Orleans. The campaign actually started in NOLA and, according to the press release, was spread through social media and an ad in The Times-Picayune. 
And no, you don't have to be a professional musician to submit, but you probably won't win if you've just started taking beginner Fender Guitar lessons online. 
Sign up here for our daily Thrillist email and subscribe here for our YouTube channel to get your fix of the best in food/drink/fun.
Ruby Anderson is a News Writer at Thrillist. Send your tips to randerson@thrillist.com.