Popeyes' Pumpkin Cream Cheese Pie Is a Fried Bundle of Fall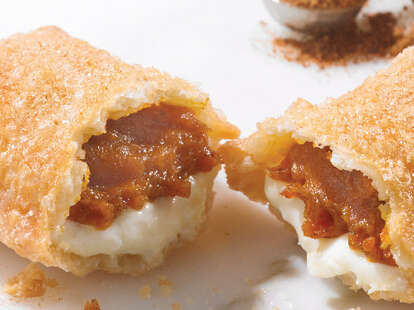 The Popeyes chicken sandwich hype is back again thanks to its impending relaunch. And, sure, we get why people are excited; for one, it's the best chicken sandwich in fast food right now. It's so popular that it inspired Twitter feuds, endless memes, and a weird-but-sexy Halloween costume.
But I want to cast the chicken sandwich aside briefly and talk about Popeyes' pies. Specifically, Popeyes' Pumpkin Cream Cheese Pie, which quietly snuck onto the menu earlier this fall. It's not the first time this pie has launched -- the Pumpkin Cream Cheese Pie dates back to at least 2014, though the pie had taken a five-year hiatus before returning in 2019.
Folks, if you love pumpkin, you're going to love this pie.
How did Popeyes' Pumpkin Cream Cheese Pie taste?
Coming from someone who doesn't usually opt for pumpkin pies -- who might even say pumpkin is my least favorite type of pie -- this fast food version is a revelation. The pumpkin filling doesn't taste artificial in the slightest like pumpkin-flavored things often do. It's hearty without being too spicy, sweet without being cloying, and provides a comforting, warming sensation on your tongue.
If the pie were stuffed with pumpkin alone, I might have gotten sick of it midway through. Luckily, however, the filling also contains a pleasant, sweet-and-tangy cream cheese filling. If you're one of those people who are kind of distressed by hot cream cheese or custard fillings, this might not be your thing. But I found it necessary to balance out the rest of the gooey pumpkin stuffing.
Lastly, and maybe most importantly, the crust of this pie is wonderful. The vehicle for this hand-held gem is flaky and crusty, blistered with tiny bubbles from its time spent in a fryer. Yup, this pie is fried instead of baked and -- let's be real -- it's fast food so bring on the fried goodies. The vessel for pumpkin and cream cheese is finished with a light dusting of cinnamon sugar which rounds out the buttery flavor; it's just an extremely pleasant pie crust.
If you're headed to Popeyes soon to resume your love affair with the fried chicken sandwich, then don't forget to tack on a Pumpkin Cream Cheese Pie to finish off your meal. Thank me later.
Sign up here for our daily Thrillist email and subscribe here for our YouTube channel to get your fix of the best in food/drink/fun.
Kat Thompson is a staff writer at Thrillist. Follow her on Twitter @katthompsonn.