Popeyes Just Added Red Velvet Cake to the Menu for Valentine's Day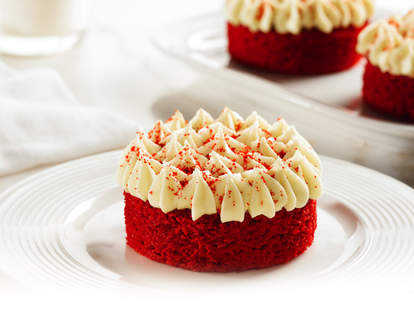 The insane popularity of Popeyes' record-breaking chicken sandwich has probably stolen some attention from other menu items. But we ought not forget, the chain's impressive lineup of dessert offerings -- like that heavenly Bourbon Fudge Pie -- have always been crowd pleasers. And now, Popeyes is introducing a new sweet treat in honor of Valentine's Day. 
The Red Velvet Cake Cup, which, naturally, features a "rich and moist red velvet cake," is topped with vanilla frosting. Yes, an interesting departure from the usual cream cheese route, but if you're asking me, it's a welcomed one. 
"This Valentine's Day, Popeyes is offering a new seasonal dessert that is sure to become a fan favorite," a rep for Popeyes said, confirming the news to Thrillist. "Nothing says 'Valentine's Day' like this sweet and festive specialty treat!" 
The Red Velvet Cake will be available beginning February 14 for a limited time at a suggested price of $2.49. 
Now look, the whole limited time-only schtick might mean you miss out on sampling the Valentine's cake, but luckily, we've got a Plan B for you. In January, Popeyes dropped a deep-fried, turnover-style Strawberry Cheesecake Pie that's just as deserving of our attention. So if you can't get your hands on the Red Velvet Cake Cup, at least you've got something sweet to wash down that fried chicken sandwich. 
Sign up here for our daily Thrillist email and subscribe here for our YouTube channel to get your fix of the best in food/drink/fun.
Megan Schaltegger is a staff writer at Thrillist. Follow her @MegSchaltegger.