Popeyes Restaurants Are Getting a Mardi Gras Makeover in NOLA on Tuesday
Each restaurant will resemble a Mardi Gras float.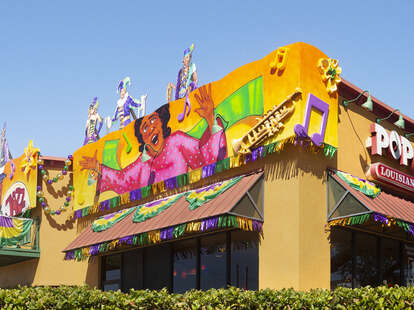 Courtesy of Popeyes
Courtesy of Popeyes
The Popeyes "parade floats" were designed and constructed by Kern Studios, a prominent event production company in New Orleans known for its grandiose Mardi Gras floats. During normal years, Kern Studios hires 350 artists, sculptors, contractors, and drivers every Mardi Gras season. Popeyes hopes to fill in the employment gap this year by bringing some of Kern's talent to its NOLA restaurants.
If you're in New Orleans, look for over-the-top decorations and entertainment at your nearest Popeyes on Tuesday, February 16.
What if I don't live in New Orleans?
Customers at participating Popeyes stores nationwide can get a taste of Mardi Gras, too. On Tuesday, small beverages will be served in limited-edition plastic cups with festive sayings like "Laissez les bons temps rouler," "Battered, breaded & beaded," and "It's just Tuesday everywhere else."
Sign up here for our daily Thrillist email and subscribe here for our YouTube channel to get your fix of the best in food/drink/fun.