Now Popeyes Is Selling a Taped Up Chicken Sandwich for $120,000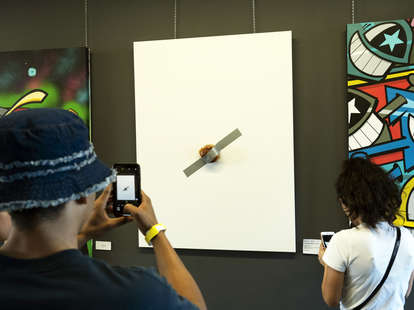 What is art? One can argue that anything can be art, really, because art is subjective and conceptual and all that other stuff. Such is the case for a work that was literally a banana taped to a canvas at Art Basel in Miami, entitled "Comedian," which shook up the art world when it sold for a staggering $120,000 over the weekend. Now, Popeyes is riding on the coattails of the absurd piece with its own version, dubbed "The Sandwich."
Popeyes unveiled the ridiculous work of art -- one of its popular fried chicken sandwiches duct taped to a wall -- in partnership with Miami-based San Paul Gallery on Monday. Yes, that's it. Instead of a banana, the center of the canvas contains a Popeyes chicken sandwich secured with the tape. It was only a matter of time before a brand elbowed its way into all the buzz surrounding the weird banana art, right?
"The Sandwich" is priced at $120,003.99, and Popeyes told Thrillist that "a buyer has already inquired" about making a purchase. I'd just like to mention that with that kind of money, you can buy over 30,000 Popeyes chicken sandwiches.
Not all is bad in this hellscape known as modern art, however. If "The Sandwich" actually sells, all the profits from its sale will go to the Popeyes Foundation, a non-profit that works to assist communities with food in times of need. So that's one light in our viral landscape that is grossly obsessed with spectacles.
Sign up here for our daily Thrillist email and subscribe here for our YouTube channel to get your fix of the best in food/drink/fun.
Kat Thompson is a staff writer at Thrillist. Follow her on Twitter @katthompsonn.