Pimm's Pops With Real Booze Are Going to Make the Beach Way Better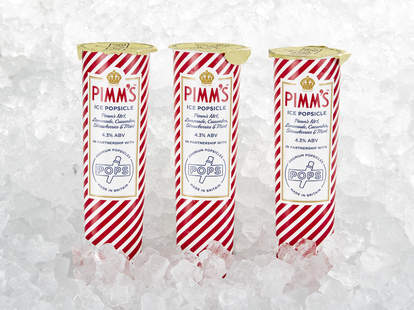 Every summer needs a hero. Not like a deli hero (though, maybe that too), but a Spider-Man hero who saves the day when things look grim. That hero is almost inevitable whoever brings the best boozy treat to the beach. That hero could be you.
You're likely to win the day if you show up bearing these new Pimm's popsicles. Yup. These are push-pop style popsicles made with real booze, and your hands are going to be sore from all the high fives.
The pops come from the UK brand pointedly named Pops. You might recognize its "premium popsicles aimed at adults" from its rose and champagne-flavored varieties. Those are certified good ideas. Pimm's popsicles are likewise a damn fine idea and include lemonade, cucumber, strawberries, and mint.
POPs
It's a good news/bad news situation for anyone salivating over these frozen cocktails. The good news is Pops delivers. The bad news is the company doesn't deliver outside the UK, so you'll have to make it to one of their select international stockists before lording them over your friends in exchange for favors.
You could also beg a store near you until they finally cave into your whining, annoying demands. It's worth a try.
Sign up here for our daily Thrillist email, and get your fix of the best in food/drink/fun.
Dustin Nelson is a News Writer with Thrillist. He holds a Guinness World Record but has never met the fingernail lady. Follow him @dlukenelson.