Cavaliers Championship Stopped Cleveland From Watching Porn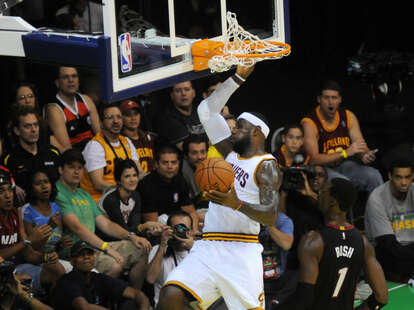 <a href="http://www.shutterstock.com/gallery-1966235p1.html?cr=00&pl=edit-00">A.RICARDO</a> / Shutterstock
<a href="http://www.shutterstock.com/gallery-1966235p1.html?cr=00&pl=edit-00">A.RICARDO</a> / Shutterstock
The Cleveland Cavaliers claimed the first pro sports championship the city of Cleveland has seen in 52 years on Sunday. It was a significant moment for the city that saw LeBron James make good on his promise of bringing a championship to Ohio. The championship so captured the imagination of the city that they had little time for other things, like masturbating.
According to data from Pornhub.com, traffic sunk well below the site's average to start Game 7 between the Cavs and the Golden State Warriors. But as the game wore on and it became increasingly apparent that James and Cavs were going to pull this out, porn traffic in Cleveland crashed like a kid trying to ride a bike for the first time.
At its lowest point, traffic in Cleveland was 47 percent below average. Traffic was also lower in the Bay Area, where the Warriors are located. When the final whistle blew, traffic spiked in the Bay Area as Warriors fans looked to console themselves after an epic collapse.
Cleveland, on the other hand, took their time celebrating the win before returning en masse to the duties they had neglected during the game. An hour after the game was completed, Pornhub traffic in Cleveland had skyrocketed to nearly 20 percent above average. That's a total swing of over 60 percent.
It was a fine release of tension after the Cavaliers battled back from a 3-1 series deficit. Might we see something similar Wednesday as the city pours into the streets for the championship parade?
Sign up here for our daily Thrillist email, and get your fix of the best in food/drink/fun.
Dustin Nelson is a News Writer with Thrillist. He's more of a hockey guy. Follow him @dlukenelson.