Pornhub's April Fool's Joke Is the Only April Fool's Joke That's Good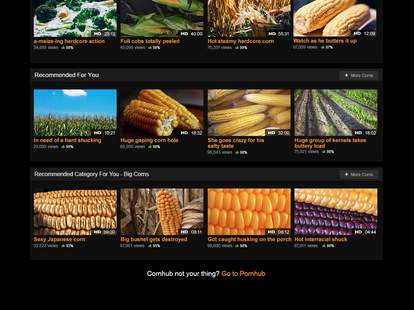 WARNING: LOTS OF RISKY CLICKS AHEAD
Let's establish a few certainties: April Fool's Day can eat shit. It's the worst holiday. It's barely even a goddamn holiday -- just a stupid date universally recognized as an excuse to wrap toilets in saran wrap and publish false articles even The Daily Mail would blush at. It sucks.
Additionally, if you're watching porn before noon at work, you've got a problem. But today, your habit is OK. Sort of.
As the world's most popular porn site, Pornhub gets plenty of attention. And they do some nifty stuff when it comes to publishing data and trends. But today, the porn purveyor played a big practical joke on everyone -- except people who get off on hot, steamy corn. Those people are in for a treat (rule 34 suggests they exist). For the rest of you horndogs, however, you'll have to bypass a prank before you get to your spank bank, in the form of corn porn.
Here, just look for yourself.
WARNING: NSFW LINKS, EVEN THOUGH IT'S CORN
While "lesbian" and "step mom" dominate nationally on your average porn-searching day, today, the front page of Pornhub is filled with such hits as "HUGE GROUP OF KERNELS TAKES BUTTERY LOAD;" "Br00tal rough shucking" and "Hot young corn gets plowed." 
According to Pornhub VP Corey Price, the prank, which will last until midnight, was a labor of love.
"We were actually inspired by a photo that made the rounds on reddit, of a guy that had a corn booth which he named 'cornhub' and it kind of evolved from there," Price told Thrillist. "We had different departments working on this for the past few weeks, and loved every shucking minute of it."
In total, Cornhub offers 16 videos and has already garnered more than 9,000 subscribers. And the videos are actually what they purport to be: lots of ears of corn being shucked, buttered, and eaten. At the very least, they're a funny take on popular porn tropes. And if you want to see the full list of vids, there's a landing page where they're all collected.
Also, stop watching porn at work.
Sign up here for our daily Thrillist email, and get your fix of the best in food/drink/fun.
Ryan Craggs is Thrillist's Senior News Editor. He just spent the last 45 minutes looking at Pornhub.com at work. Just kidding. It was 90 minutes. Follow him @ryanrcraggs.