Democrat-Leaning States Stopped Watching Porn for the Debate More Than Republican States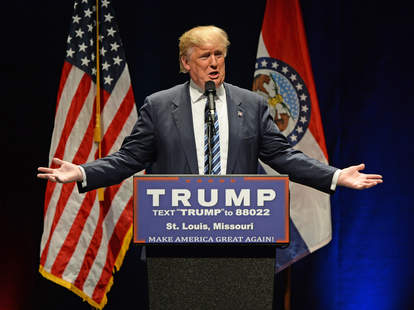 <a href="http://www.shutterstock.com/gallery-70292p1.html?cr=00&pl=edit-00">Gino Santa Maria</a> / Shutterstock
It will not come as a surprise to learn that people watch a truckload of porn every day. Even saying "truckload" kind of misses the enormity of the amount of pornography consumed every day. The numbers are staggering. Pornhub alone gets over 60 million visitors every day. For anything to be a significant trend inside those massive traffic numbers means something is changing the behavior of a whole lot of people. Just one percent of that daily traffic would be 60,000 people.
Thanks to data shared by Pornhub, we have previously seen that major cultural events can cause a large drop in traffic to porn sites, indicating how massive an event has to be for it to get people to stop watching porn. Events like the Game of Thrones Season 6 premiere (four percent drop), the release of "Fallout 4" (10 percent drop), and the NBA Finals (47 percent drop in Cleveland) have caused large fluctuations in the past. But according to new data from Pornhub, the first debate of the 2016 presidential election caused an even larger drop in porn traffic.
PornHub
Across Pornhub, the site saw a 16 percent drop in normal traffic during the debate compared to what Pornhub normally sees during that time slot on a Monday. That 16 percent mark was the peak of the fluctuation, but traffic remained down throughout the debate. Then, as soon as Hillary Clinton and Donald Trump were done scolding each other, traffic resumed at its usual pace.
PornHub
One of the more interesting pieces of data Pornhub shared was a breakdown of traffic state-by-state. While every state saw porn viewership drop during the debate, some states saw a much bigger impact than others. At the top of the spectrum, New Hampshire, Massachusetts, and Washington D.C. saw a 21 percent drop in porn traffic. Meanwhile, at the other end, residents of Hawaii, Alaska, and Mississippi were less willing to put their pants on for the election and saw just a four percent drop in traffic.
PornHub
Further teasing apart the state-by-state data, Pornhub shared the exact numbers for each state and colored each state's bars by whether that state voted Democrat in the last presidential election or if they voted Republican in 2012. Overwhelmingly, states that voted for Barack Obama were more willing to stop watching porn for the debate. In states that went for Romney, a smaller percentage of constituents were willing to turn the porn off for a debate between presidential candidates.
The takeaway? Well, it's just one site, so it doesn't actually say much about Democrats and Republicans at large. It does show that the presidential election is important to Americans and they showed it by zipping up their pants to listen to what the candidates have to say. Whether or not the tradeoff was worthwhile remains to be seen. Maybe they won't be so willing to give up the porn come the next presidential debate.
Sign up here for our daily Thrillist email, and get your fix of the best in food/drink/fun.
Dustin Nelson is a News Writer with Thrillist. He holds a Guinness World Record, but has never met the fingernail lady. He's written for Sports Illustrated, Men's Journal, The Rumpus, and other digital wonderlands. Follow him @dlukenelson.