This Map Shows the Most Misspelled Porn Search Terms in All 50 States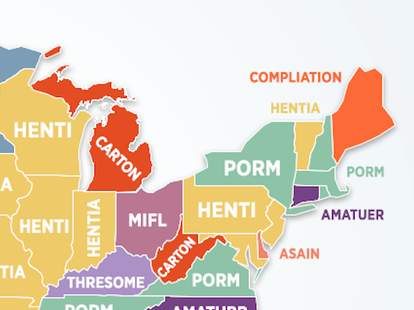 Not one to be outdone by Google on the topic of map misspellings and embarrassing the user base in the United States, Pornhub, the flesh peddlers with a sense of humor, have unleashed a load of the most commonly misspelled porn search terms keyed in by people across the country. This comes to us courtesy of Mashable the same week a Trump typo dominated the news cycle and Google Trends released its own -- safe for work -- list of of the most commonly misspelled words in America. As you can imagine, the results of this porn survey are not exactly encouraging.
Behold, in all its glory, our United States of Porn Misspellings, Typos, and "Porm":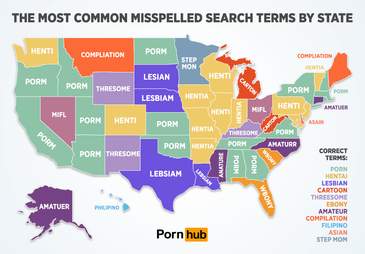 PornHub
As the map shows, a majority of Americans who messed these search queries up failed to type the word "porn" correctly on a site literally called "Pornhub." Now, and presumably forever, "Porm" rules America. Same goes for "lesian," "mifl," "amatuer," and all their respective variations -- all of which, we should point out, are listed prominently as correctly spelled categories on Pornhub's front-end. (We checked at the risk of HR emails that are sure to follow.) Let us offer a special slow-clap to Minnesota, which defiantly failed to type in the words "step mom" correctly into Pornhub's search engine. Among the 50 failures on display, thine is the most incestuous. Congratulations, Minnesota.
To be fair, spelling things correctly probably isn't the primary concern when you're (hypothetically, of course) browsing a site like Pornhub. For what it's worth, Pornhub is up front about this in its blog post illustrating the research: "As you can imagine, misspelled searches are quite common on Pornhub when people's dominant digits are otherwise being… occupied," some fortunate soul on the company's communications team wrote. "Thankfully our advanced auto-correct feature is always there to lend a hand."
Thankfully, indeed.
Sign up here for our daily Thrillist email and subscribe here for our YouTube channel to get your fix of the best in food/drink/fun.