Adult coloring books have been rising in popularity and not just among stoners and adults looking to escape the feeling that they've become their parents. Pornhub understands the many needs of the modern adult and they're launching a coloring book that combines leisure activities into a very confusing yet somehow logical novelty gift.
The "Adult Adult Coloring Book" is, well, what it sounds like. It's an adult-themed coloring book for adults. Artists such as Alpha Channeling, Apollonia St-Clair, and Arrington De Dionyso have render moments from infamous porn scenes as line drawings suitable for a box of Crayola crayons that will never look the same once they've been used to color a blowjob purple.
Recommended Video
Unleash Your Inner Mixologist With the Booziest Chemistry Class Ever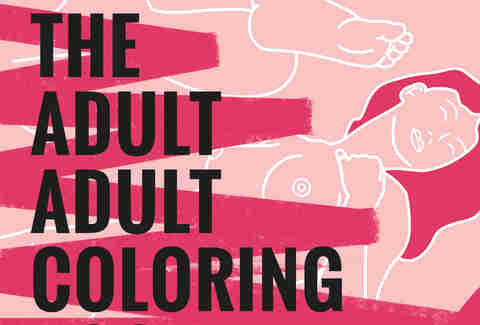 "The popularity of coloring books for adults has exploded in the last year, and, here at Pornhub, we wanted to capitalize on this trend and penetrate the market, introducing our very own coloring book with an erotic twist," says Pornhub VP Corey Price. "In addition to selling copies of the book on our online platform, we have partnered with Housing Works Bookstore Café in NYC who will be selling a limited number of copies with all proceeds going to Housing Works, a healing community of people living with and affected by HIV/AIDS."
If you're not in New York, the very NSFW coloring book is available for preorder at the mostly SFW PornHubApparel.com starting Dec. 1, with books shipping out Dec. 9. Select bookstores in Italy, Montreal, and Los Angeles will also have copies available in-store.
And, like videos on the Pornhub site, there will be portions available for free to everyone (a few pages will be made available to be printed out for free), but if you want the full thing, you're going to have to pay.
Sign up here for our daily Thrillist email, and get your fix of the best in food/drink/fun.