Alright, maybe not. But Pornhub Insights is the way to go if you want to learn about the delicate and complicated lives of porn-lovers. It's a way to look into the technical side of smut without having to watch a bunch of sweaty dudes stare at filth for a month straight. 
In the newest post by the porn giants, the site's top search terms from the last six years were released to the public, giving some fascinating insight into what your friends and family have been masturbating to since 2006. 
From 2009 to 2015, the search terms -- by year -- are as follows: "milf;" "lesbian;" "teen;" "asian;" "mom;" "teen" "lesbian." Seven years of statistics has taught us that people are tired of jerkin' their gherkin to hot single moms and now only care about those hot single moms' lesbian daughters. Or something like that.
Recommended Video
Get Lucky With This Next-Level St. Paddy's Day Meal
The results are truly fascinating, especially when we see how "teen," "mom," and "MILF" were the only terms that remained on the list throughout the seven years PornHub surveyed. 
They go on to say that porn is, essentially, getting more whitewashed, "...one clear trend is that searches by ethnicity have decreased over the course of the past almost 7 years."
Terms like "Indian" and "Asian" were popular between 2009 to 2012, but were completely absent from the list during 2014 and 2015 -- unless "hentai" counts... but it doesn't.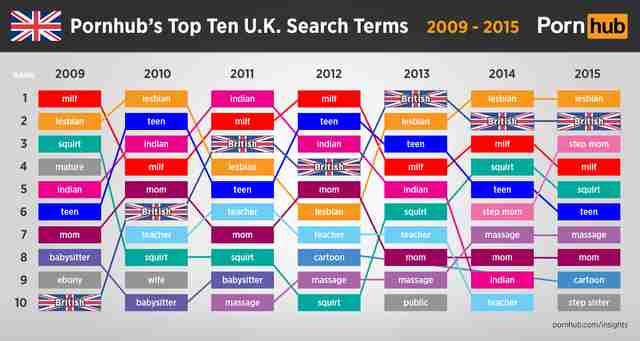 One truly excellent stat is how often British folks search for "British" porn, as the search term managed to find a spot in the top 10 throughout the entire seven-year period. 
What else do Brits like? Well, funny you should ask:
"Based on this last bit it seems that PornHub users in the UK are getting more in touch with their sensual sides, but they are also demonstrating a strong preference for step-relative themed content with 'step mom' first appearing in at 6th place in 2014, and now taking 3rd, joined by newcomer 'step sister' in at 10th."
English pride and incest, what a time to be alive!
Sign up here for our daily Thrillist email, and get your fix of the best in food/drink/fun.
Jeremy Glass is a writer for Thrillist and doesn't need insights to know about his porn habits.