You Can Sleep Surrounded by Tigers in This Luxury Lodge
We're living in the golden age of maximalist lodgings: You can sleep inside a bubble under the Northern Lights, in a suite that turns into a bulletproof vault, or get handed a 40 of malt liquor the moment you walk in the door. If there's one thing these homes away from home lack, though, it's the chance to keep a deadly animal in your sight at all times during your stay.
Port Lympne, an animal reserve in Ashford, Kent, decided to solve this problem last summer by placing a luxury lodge inside its tiger enclosure. They've named the space the Tiger Lodge, and it lives up to its name with two giant windows looking out onto your house cat's regal aunts.
Courtesy of Port Lympne
The lodge will sleep four guests in two bedrooms and comes with "fluffy bathrobes," perfect for pretending that you too are a fur-covered beast. If you get tired of watching the tigers (how?), you can can gaze into the fire you'll build in the log burner or watch a nature documentary on the 4K TV.
The living room and master bedroom will both get you up-close with the tigers, but on the other side you'll head out French doors to a private balcony with views of the sunset, 30 miles of the reserve, and the English Channel beyond.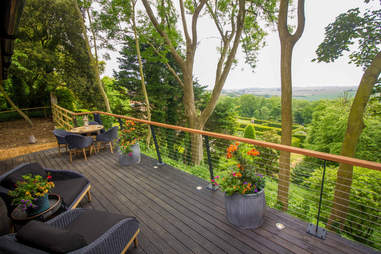 Courtesy of Port Lympne
Staying in the Tiger Lodge also comes with some serious perks. You'll get your own personal golf buggy to cruise around the resort in, as well as access to areas that aren't open to the public. Plus you can enter the park at 8:30am, before others are allowed in, and explore special routes after hours.
The reserve has over 700 animals and 88 species, so it's way more than a tiger show. Giraffes, bears, and zebras will make appearances, just not in your yard, because tigers are kind of jerks.
Rates start at around $500 per night in the low season and a little over $1,000 per night in the high season. Check out this page for booking options and make your Jungle Book dream a reality.
h/t Travel & Leisure
Sign up here for our daily Thrillist email and subscribe here for our YouTube channel to get your fix of the best in food/drink/fun.

James Chrisman is a News Writer at Thrillist who does not believe in tigers. Send news tips to news@thrillist.com and follow him on Twitter @james_chrisman2.