As if ordering in weren't already detrimental enough to your budget, many services tack on annoying fees to bring your food to your door. It's a small price to pay for the convenience of it all, but those fees add up. Fortunately, Postmates has introduced a new way to avoid the dreaded delivery fee… but you're going to have to be patient to reap the benefits.
On Wednesday, Postmates rolled out a new delivery option, called Postmates Party, which allows you to opt into having your meal delivered as part of a group. The name is slightly misleading, as each person in the group orders on their own from the comfort of their desk, couch, or wherever they are, and the delivery person simply makes a series of deliveries from the same restaurant. Each order will be delivered to the person who got it directly, but it'll all be sent out in a batch -- hence the 'party' part of Postmates Party.
"We are driven by the vision of creating a logistics infrastructure that allows goods to move throughout a city at nearly zero cost to the consumer. Postmates Party is the latest innovation in on-demand delivery that will help us deliver on this vision," Bastian Lehmann, CEO and co-founder of Postmates, said in a statement. "Postmates Party is a fun way to give customers the option to save money by ordering from popular restaurants that people all around them are ordering from in real time."
Recommended Video
Ghost Kitchen: Restaurant Gets Help From Community During Coronavirus Pandemic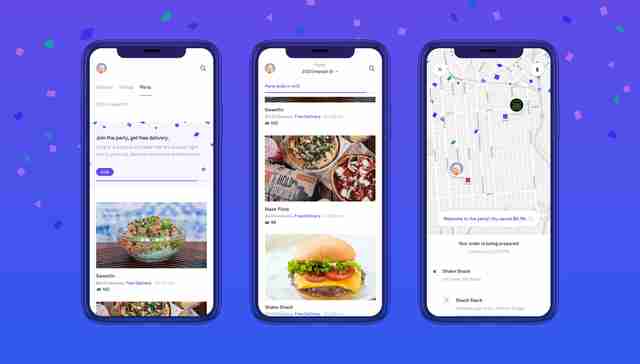 The upside of selecting this option is you won't incur a delivery fee, but saving a few bucks could come with some downsides as well. For one, choosing the Postmates Party option could mean your food will take longer to come. Additionally, depending on the size of the group you're lumped into, your food could be cold or soggy by the time it finally makes it to you. Additionally, this option doesn't appear to be available for all restaurants on Postmates. The service lists popular chains like Shake Shack, Blaze Pizza, and The Halal Guys, as options, but didn't offer any more details on whether you can apply the Postmates Party option to other eateries.
Postmates users living in Los Angeles, New York City, San Francisco, Miami, Chicago, Seattle, Las Vegas, Long Beach, Phoenix, San Diego, Orange County, and Philadelphia can now use Postmates' new delivery option. To join a Party, all you have to do is open the Postmates app and tap on the Postmates Party tab. From there you'll see a list of trending restaurants in your area, and you'll be able to place an order as part of a group. You only have a five minute window to make your decision though, so come prepared.
Although you may have to wait a little longer for your food to come, cutting delivery fees out of your life just might be worth it. At least as far as your budget is concerned.

Sign up here for our daily Thrillist email and subscribe here for our YouTube channel to get your fix of the best in food/drink/fun.