Someone Is Sending Mysterious Pregnancy Cards Full of Coupons to Women Across the U.S.
Kaley Webb was just another childless Thrillist employee when she received an unusual card in the mail from someone named "Jenny B." The front of the card said "Holy guacamole! You're going to avo baby!"
This was news to her. And, despite her love for avocado, she did not chortle.
The mail had been delivered to her house in Florida. Her address was printed in the cute 'n curly handwriting of a popular high school girl. Along with the card there were gift cards for pregnancy pillows, baby shoes, and matching onesies for twins. She panicked, and not about the terrifying concept of having twins -- she thought she was being stalked.
"Congratulations!!" the card read. "I'm so excited for you. I hope you like these."
Kaley made it clear that she did not like them by calling the cops.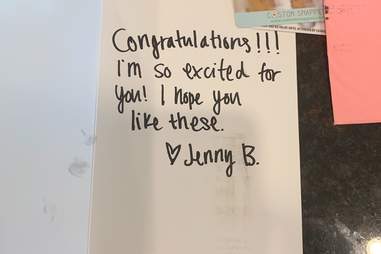 Kaley Webb
When Kaley came to her own publication to report the incident, she sent this article from The Independent, titled "Who is Jenny B? Mystery pregnancy cards sent to women across US," but, at the time of the incident, she had only a Reddit thread sent by her friend to explain that this was happening to women across the United States. In the thread there were messages like the one Kaley sent to us: 
"I immediately panicked because I thought I was being stalked. How would this person have my home address and know that I'm in Florida nursing an injury? The receipt indicates these gift cards were bought a month ago, so why did they just wait to send this?"
$245.00 IN GIFT CARDS AND COUPONS TO BABY SUPPLY STORES. Peep that receipt, y'all. Either someone made a BIG mistake or this is some sort of elaborate prank to make my mom think I'm pregnant 5/ pic.twitter.com/Cg1ZA6WAXi

— A sPook Hawkins 🍂👻🎃 (@ahawkwrites) October 23, 2019
TheIndependent went down a rabbit hole to find the culprit. They began investigating "Mother's Lounge," the company they believed was behind the mass mailing campaign, and saw that another website promoting a Mother Lounge product said that product was "one of the many creations of Jenny Bosco in Pleasant Grove, Utah." 
According to a statement issued by the Surry County Sheriff's Office in Virginia, Mother's Lounge was part of a similar mass-shipping incident in February. The general manager for Mother's Lounge had told officials that the letters were sent by Jeanette Pierce. TheIndependent found a LinkedIn profile for a Jeanette Pierce living in Pleasant Grove, Utah -- she was the "marketing coordinator" at Mother's Lounge, LLC. Not so pleasant in the grove, I reckon. 
TheIndependent reported that the Better Business Bureau (BBB) saw an increase in complaints against Mother's Lounge in February, with claims that the brand was targeting pregnant women with "gift cards." One report specifically noted that the person received "gift cards" from a "Jen," for Eskimo Kids, Little Wanderers, Canopy Couture, and Udder Covers products. Go look at the picture of coupons above, and gasp appropriately. 
In the complaints, you learn that the inventory is slim on these websites, that the products are expensive, and that the basic shipping fees are between $13-$22. The BBB requested that the company discontinue certain company practices, calling their card scheme "questionable."
We don't know at this time how exactly the company got ahold of these women. Many questions remain -- including, can someone please send me coupons?
Sign up here for our daily Thrillist email and subscribe here for our YouTube channel to get your fix of the best in food/drink/fun.