Is This the Coolest Lunch Box Ever?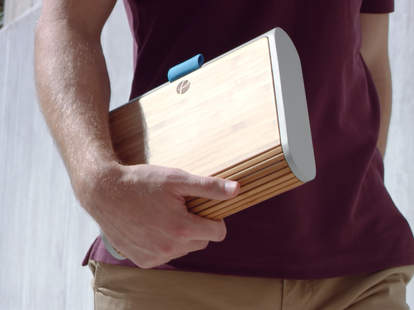 Almost no lunch in your life is going to beat that first day of kindergarten: you had your Transformers lunch box packed with a sandwich, a juice box, and zero cares in the world. But then you meet other kids, grow up, get a job, and lunch becomes this exercise in cramming food down your face hole in 30 minutes -- or even worse -- you eat at your desk.
Well, if you end up eating at your desk with Prepd Pack, your colleagues will likely ask you, "What is THAT?" in a fit of curiousity.
Developed by Chris Place and Will Matters, the premise of Prepd Pack is fairly simple: along with being a cool-looking and functional lunch box (way better than a brown bag), Prepd Pack includes modular containers that store your food, magnetic cutlery -- but more importantly, an app that'll instruct you on what to prep for your workweek lunches. 
"All the recipes are designed to fill the modular containers perfectly, making meal prep easier, more efficient and eliminating food waste in the process," the product's Kickstarter page explains. "Our app also outputs customized shopping lists so you'll know exactly what to buy when you get to the store."
The idea here being that you can cut down on waste, time, and money spent on assembling healthy and edible lunches for a week. And people are into the idea: Prepd Pack already demolished its Kickstarter goal of $25,000 by reeling in in excess of $278,000, with 30 days left in the funding process. Put simply: that's quite good.
​You can pledge varying dollar amounts, which come with varying amounts of Prepd Pack goodies; the lowest level of $50 snags you one box, cutlery, an eating mat and a set of containers; you can also pledge a bit more to get extra containers, with your basic box, so you're not having to rewash the same ones all the time. The highest-level pledge, $385, will snag you 10 complete sets.

And since this thing's reached its Kickstarter goal, the current shipping time it's looking at is June 2016. You'll have to wait a few months -- but hell, you've probably been waiting your whole life for a better lunch box, right?

Sign up here for our daily Thrillist email, and get your fix of the best in food/drink/fun.
Ryan Craggs is Thrillist's Senior News Editor. He, in fact, was projecting about the Transformers lunch box. It was yellow, and it was awesome. Follow him @ryanrcraggs.