Obama Makes the Same Dad Joke at Every Dinner According to Trudeau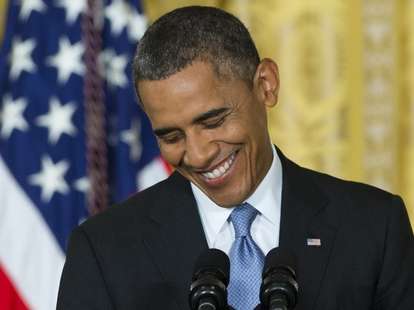 SAUL LOEB/AFP/Getty Images
President Barack Obama's ability to be the most dad-like dad in the nation has been one of the few constants during his eight-year tenure as commander-in-chief. Whether it's those dad jeans, the deluge of dad puns he unloaded when he pardoned his final turkey, or that he thinks the lawn ornaments are creepy, he's has a way of making "dad jokes" work.
Now just a month from the end of Obama's presidency, Canadian Prime Minister Justin Trudeau has dropped a wonderful, if short, story about yet another dad joke the U.S. President tells. Speaking on a Montreal radio station, Trudeau (sporting his Habs socks) said that Obama has on more than one occasion told the following dad joke as everyone sits down to eat.
"I've been to a couple dinners at the White House now," said Trudeau, "and Obama always uses the same joke and it's always very, very funny. He's like, 'I hope you enjoy dinner, I've been cooking all day.'"
Ouch. That's bad. But it's also kind of wonderful.
h/t Independent
Sign up here for our daily Thrillist email, and get your fix of the best in food/drink/fun.
Dustin Nelson is a News Writer with Thrillist. He holds a Guinness World Record but has never met the fingernail lady. He's written for Sports Illustrated, Rolling Stone, Men's Journal, The Rumpus, and other digital wonderlands. Follow him @dlukenelson.