President's Obama's Workout Playlist Is the Cool Dad Mix You Hoped For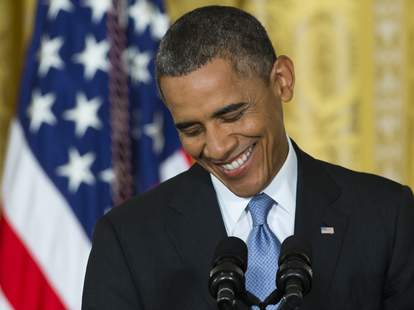 SAUL LOEB/AFP/Getty Images
President Barack Obama has never been shy about sharing his good taste in music. From summer playlists to musical guests he's welcomed at the White House, he might be the only president in recent memory to have seriously good taste in pop music. Now, he's sharing a new playlist for Wired's November issue. It's his personal workout playlist.
The 10-track playlist is solid. It's a strange combination of upbeat songs — Beyonce's "Get Me Bodied" and The Isley Brothers' "Live It Up, Pts. 1 & 2" — and some songs most people aren't generally jogging around to. Sting's "If You Love Somebody Set Them Free"? Really?
To each their own.
The mix has a couple repeats from his summer playlist, including Nina Simone's "Sinnerman" and Courtney Barnett's "Elevator Operator," but good songs deserve a repeat listen.
Wired has the full playlist streaming on Spotify, with all the Black Eyed Peas and Bob Marley you can handle. Take a listen to the playlist above, then get out there and take a 45-minute job like a president.
Sign up here for our daily Thrillist email, and get your fix of the best in food/drink/fun.
Dustin Nelson is a News Writer with Thrillist. He holds a Guinness World Record, but has never met the fingernail lady. He's written for Sports Illustrated, Men's Journal, The Rumpus, and other digital wonderlands. Follow him @dlukenelson.