President Trump Tweeted a Typo and the Internet Went Completely Insane
President Trump, being no stranger to expressing misgivings with just about everything in a public manner, sent the internet into a tizzy early on Wednesday morning when he tweeted a non-word: "covfefe."
The full tweet, which read "Despite the negative press covfefe," stayed on the president's Twitter page for SIX HOURS, ratcheting 126,000 retweets and 160,000 likes before it was deleted.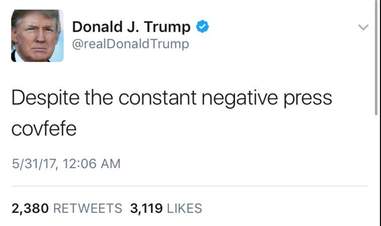 Twitter/covfefe
The mysterious half-sentence-ending-in-a-typo prompted all sorts of conjecture from media types and the like, because it isn't clear what the president was actually trying to communicate. The fact that it sat there, idly, like a glaring reminder of the internet's hive-mind, meant there was only one thing for Twitter to do: make covfefe jokes.
The Merriam-Webster dictionary was even summoned by the frothing mob for clarity's sake. (Covfefe is still not a word).
The largely pointless rumination was brought down to reality when someone smart indicated that "covfefe" was probably an attempt at the word "coverage."
This isn't the first time a politician has invented a word (albeit accidentally) that got way too many people riled up. Former Alaska governor Sarah Palin infamously cobbled together the word "refudiate," a mixture of "refute" and "repudiate," in 2010, earning her an ill-advised Oxford Dictionary Word of The Year award. In that instance, Palin thought she was speaking real English, however.
In any case, the president tweeted again early Wednesday, but decided to stir the pot, instead of explaining what covfefe means:
Sign up here for our daily Thrillist email, and get your fix of the best in food/drink/fun.
Sam Blum is a News Staff Writer for Thrillist. He's also a martial arts and music nerd who appreciates a fine sandwich and cute dogs. Find his clips in The Guardian, Rolling Stone, The A.V. Club and Vice. He's on Twitter @Blumnessmonster.