Here's Why You're Getting a Text From President Trump Today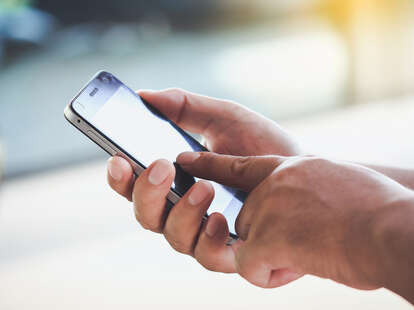 You're getting a text from the president today -- and no, the government isn't finally catching up with you about those unreturned library books from fourth grade, so just calm down. Everyone else is getting one too.
The message will be sent at 2:18pm ET on Wednesday, October 3, and you'll know it by the "Presidential Alert" at the top. Because virtually everyone with a United States cell phone number will receive it, an estimated 200 million phones will be simultaneously buzzing/shrieking this afternoon. Fun!
This is a test of the Integrated Public Alert and Warning System (IPAWS), and it'll be very similar to the severe weather alerts, flood warnings, or Amber Alerts that cause you such anxiety (all of them go out on the Federal Emergency Management Agency system). But, again, there's no reason to fear this one. It's only a test, which will be made clear by the text that reads, "THIS IS A TEST of the National Wireless Emergency Alert System. No action is needed."
While those other alerts go out to localized areas, this new alert will cover the entire nation, a first for the system, and will be used to address nationwide crises. While you can opt out of Amber Alerts and other notifications on the system, there's no way to bypass one.
"When those messages appear on mobile devices, people should take those extremely seriously," Antwane Johnson, director of the IPAWS system, explained to CBS News. "It has some direct impact on either life or safety."
There might be some delay before the actual message makes it to your phone, so if it's 2:19pm and you still haven't gotten it, don't feel left out. There will also be an alert sent out to TVs and radio with a similar message at 11:20am.
According to the FEMA website,"WEA includes a special tone (some describe it as quite loud) and a vibration, both repeated twice."
In short, expect a lot of strange, loud noises this afternoon.
h/tCNET
Sign up here for our daily Thrillist email and subscribe here for our YouTube channel to get your fix of the best in food/drink/fun.