This Airline Is Launching New US Routes With $99 Fares to Europe
European airline Primera Air has announced new routes out of the United States, and the airline is celebrating by bringing its low prices stateside. 
The budget airline will launch new routes from Boston and New York (Newark) to Birmingham, England; Stansted Airport in London; and Charles de Gaulle Airport in Paris in April 2018. Though it's a little under a year from now, the first tickets have been made available at $99 one-way with flights coming out of Newark daily and out of Boston four times a week. Round-trip, you'll find fares like the below $294 trip from New York to Paris.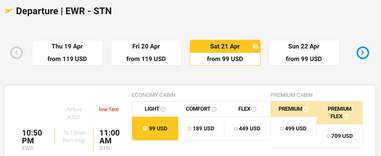 PrimeraAir.com Screengrab
PrimeraAir.com Screengrab
Though, if you're looking to jump on the deal, be warned that the site is experiencing heavy traffic and has been down.
The airline looks like it's attempting to compete with other transatlantic budget airlines like Norwegian and WOW. Primera said in the announcement that it will be adding two more transatlantic routes by the end of this summer. 
However, like most budget airlines, there are asterisks to the low prices. There are fees. "Light" economy seats on a transatlantic flight will bill you $45 for picking your seat (that's even higher in an exit row), $40 for a meal, and $45 for checking a bag one-way.
Once you start tallying the damage, the budget trip can add up rather quickly. But for the thrifty traveler who can pack light, sit by strangers, and pack a little something to eat, Primera is yet another option to get yourself overseas on the cheap.
Sign up here for our daily Thrillist email, and get your fix of the best in food/drink/fun.
Dustin Nelson is a News Writer with Thrillist. He holds a Guinness World Record but has never met the fingernail lady. Follow him @dlukenelson.