Special Edition Pickle Rick Pringles Are Coming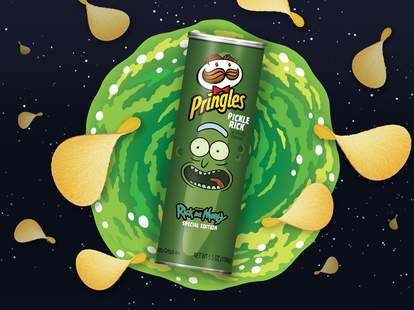 If you're that kid who stood up on the McDonald's counter and screamed "I'm Pickle Rick!" when you weren't able to get Szechuan dipping sauce during its brief Rick and Morty-inspired return, then this news may just delight you and your embarrassing existence. If that entire sentence made little to no sense to you, then this news probably means nothing.
Pringles is teaming up with Adult Swim's award-winning series, Rick and Morty, to unleash Pickle Rick-flavored chips. Let us be clear: this is not a pickle-flavor, it's specifically Pickle Rick-flavored. For anyone who has seen the third episode of season three, entitled "Pickle Rick," this may be a bit concerning because following Rick's transformation into a pickle, he adventures in dank sewage systems, fights blood-thirsty (or pickle-thirsty?) rats, and gets shot at a bunch. He is not the most hygienic pickle.
 
Nevertheless, Pickle Rick Pringles will be arriving at grocery stores just in time for the Super Bowl in 2020 and it's kind of a big dill. In addition to the vinegary chips, Adult Swim and Pringles will also launch a 30-second ad during the second quarter of the big game that will follow our favorite interdimensional, dysfunctional grandpa-grandson duo. 
"We want to do something completely new for the brand for the 2020 Big Game and are thrilled to be partnering with Adult Swim and Rick and Morty, a show which continues to grow in popularity year after year and enjoys a cult fan following," Gareth Maguire, senior director of marketing for Pringles, said in a statement. "We hope the new special edition Pickle Rick flavor will be a hit with the show's fans."
Enthused fans in our dimension, C-137, will be able to access the limited edition chips beginning early February and can expect more galactic news regarding this partnership in the future.
Sign up here for our daily Thrillist email and subscribe here for our YouTube channel to get your fix of the best in food/drink/fun.
Kat Thompson is a staff writer at Thrillist from C-137. Follow her on Twitter @katthompsonn.