Roasted Turkey Pringles Just Hit Stores for Your Hardcore Thanksgiving Snacking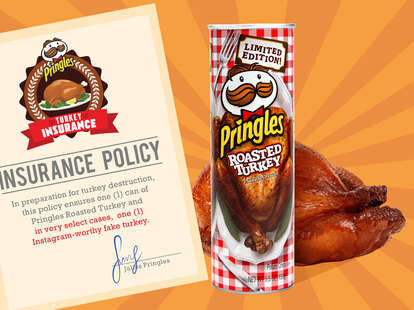 One of my favorite Thanksgiving traditions isn't shoveling pie in my mouth or roasting veggies that no one actually wants to eat. It's watching the annual Thanksgiving episode of Bob's Burgers, the animated series where lovable and mildly annoyed protagonist and chef, Bob Belcher, always tries -- and fails -- to roast a turkey. To me, the episode reflects the actual reality of Thanksgiving turkey: it's hard to cook, no one is ever very psyched to eat it, and disaster is always around the corner.
Instead of brining and roasting an entire turkey, Pringles wants to set you up for success with its newly launched cylinders: Roasted Turkey-flavored crisps. You can get the experience of eating a turkey in convenient chip form -- no effort required.
"We said to ourselves, 'If we've managed to capture perfect, fresh-out-of-the-oven Roasted Turkey flavor in a Pringles crisp, and we don't use it to save people from their nasty-out-of-the-oven turkey fails, then who are we?'" Gareth Maguire, senior director of marketing for Pringles, said in a press release. "After two years of proving the power of a crisp-based feast with the Pringles Thanksgiving Dinner Kit, the time for a full-size Roasted Turkey can and Pringles Turkey Insurance has come."
The cans of Roasted Turkey chips are now available at grocery stores nationwide, but like Thanksgiving itself, the availability will be fleeting. Snag some, kick back on the couch, throw on some Bob's Burgers, and forget about deep-frying the bird this year.
Sign up here for our daily Thrillist email and subscribe here for our YouTube channel to get your fix of the best in food/drink/fun.
Kat Thompson is a staff writer at Thrillist. Follow her on Twitter @katthompsonn.