This New Wine Line Gives Back to Communities Impacted by the Justice System
Boozy and for a good cause? We're sold.
I don't need much incentive to supplement my wine supply, but if there ever were a good excuse, this would be it. The Prisoner Wine Company has a new limited-edition series, and with every purchase, you're benefiting a good cause.
The Corrections release includes a three-pack of exclusive wines: a Viognier, Malbec, and Tempranillo, all of which boast labels carefully designed by California artist Christ Burnett. Now here's where it gets even more interesting. Those labels were designed to highlight the humanity and resilience of incarcerated Americans.
The proceeds from Corrections will go to Rubicon Programs, a nonprofit organization that provides services to lower-income communities and those disproportionately impacted by the US justice system.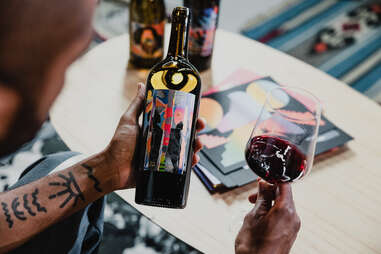 "Chris's mixed-media collages have a hopeful tone, asking viewers to look past the stereotypes that often define prisoners—'criminal,' 'addict,' 'abuser'—and to reckon with their humanity," Prisoner Wine said in a statement to Thrillist. "Each bottle comes wrapped in a bottle bag featuring statistics that underscore the unfairness of the criminal justice system, transforming this collection of wine into a tool to drive conversation and inspire action. A leaflet containing a QR code accompanies the wines, driving to more information on Burnett, providing details of the art, and explaining the project and the wines."
According to the wine company, 100 million Americans—including millions of children—have family who is or has been incarcerated. The system in itself is wrought with social injustice. The Prisoner Corrections wine series aims to combat this by funneling that money where it matters into the fight for criminal justice reform. You can purchase the collection online.