Prosecco Doughtnuts Have Arrived and Mom Says You Can Have Booze for Breakfast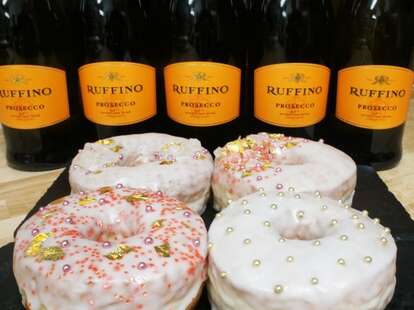 Please stay tuned for a very important announcement. Prosecco doughnuts are a thing, and even people who don't like Prosecco will probably find something to like about them.
The Doughnut Project -- purveyors of those ridiculously gooey grilled cheese doughnuts, everything bagel doughnuts, and a fleet of booze-inspired doughnuts -- has partnered with Ruffino to make these sparkly Prosecco-flavored doughnuts in honor of National Prosecco Day because every foodstuff gets its day. While it may have seemed like National Prosecco Day was every day in July, it officially lands August 13.
The doughnuts are glazed with a Prosecco frosting and adorned with gold leaf and "fancy pink toppings." Translation: These are going to be all over Instagram when they're released next week.
In honor of orange juice's messy roommate, The Doughnut Project will have Prosecco doughnuts available from August 14 to 20 at it's New York City location on Morton Street. They're selling for $4.25 a pop, which is more than you'll pay for a Krispy Kreme doughnut but look at these things. Look at them. They look like you'll take a bite and be instantly whisked away to a music video with too many confetti canons.
Sign up here for our daily Thrillist email, and get your fix of the best in food/drink/fun.
Dustin Nelson is a News Writer with Thrillist. He holds a Guinness World Record but has never met the fingernail lady. Follow him @dlukenelson.