Brooklyn Is on High Alert, Because of an 'Aggressive Squirrel'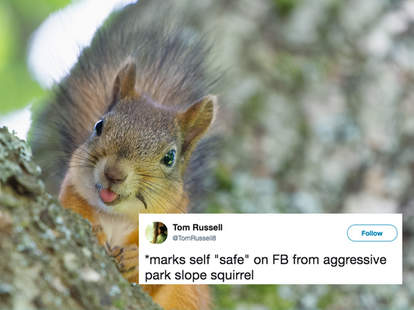 Shutterstock | Twitter Screengrab
This is not a drill. The Brooklyn neighborhood of Park Slope is on red alert after a Prospect Park squirrel attacked five people in five days between July 18 and 20. 
You know what the "breaking news" in NYC was today? Squirrel attacks. SQUIRREL ATTACKS. I kid you not. 🐿

— Kayla Hockman (@kduhh) July 25, 2017
The five people known to have been bitten were all attacked near the park entrance at Parkside and Ocean Avenues.
As nuts as it sounds, the Health Department has issued a warning. It is encouraging anyone who was bitten and has not reported it, to seek medical attention for potential rabies exposure. Based on the squirrel's behavior, officials are assuming the squirrel is rabid even though it's not sure whether or not the animal is rabid. 
One of the squirrel's victims, Leku Percival, recorded himself feeding a squirrel near the area of the other attacks. Naturally, he was bitten. Percival says he believes it's the same squirrel because, though it only nipped him in the video, he was later attacked. 
Obviously, you shouldn't feed squirrels in the area of Brooklyn's biting tree rat.
Meanwhile, online, there is no shortage of people joking about the oddity of the situation.
Yes, but how do the authorities know it's just ONE aggressive squirrel attacking people? Does squirrel have distinctive tattoos?

— Laura Nahmias (@nahmias) July 24, 2017
i bet the squirrel is dressed in a teeny tiny black leather motorcycle jacket and has a itty bitty cigarette hanging from his lips. https://t.co/n3SJbggHXr

— Nate Hermes (@natehermes) July 25, 2017
In a related story, passive aggressive squirrel wondering if you're going to throw that bread away, because he'd hate to see it go to waste. https://t.co/HTm4tnDlrz

— ilene a fischer (@iafischer) July 24, 2017
While people make jokes online, 50-year-old Brooklyn resident Luis Galdan is just carrying on as though there isn't a squirrel attempting to bring Brooklyn to its knees. "I'm a big man. I can kill it and eat it," he told the Daily News. "Why not? We eat them back home."
Sign up here for our daily Thrillist email, and get your fix of the best in food/drink/fun.
Dustin Nelson is a News Writer with Thrillist. He holds a Guinness World Record but has never met the fingernail lady. Follow him @dlukenelson.