A Fund to Save Betty White from 2016 Has Already Raised $2,700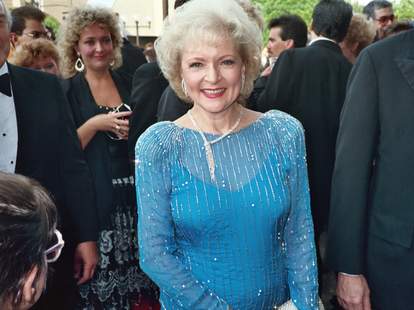 Betty White is so many things to so many people -- Golden Girl, champion of fauna, unapologetic vodka drinker -- and to the tweeting Internet, the 94-year-old veteran actor and comedian's survival is a top priority for the last days of 2016, a year that's already taken Carrie Fisher, Prince, and David Bowie. To ensure nothing bad happens to White, Demetrios Hrysikos of Spartanburg, South Carolina, has gone so far as to set up a GoFundMe page to "protect Betty White" for the remainder of the year.
"Help 2016 catch these hands if it goes anywhere near Betty White!" Hrysikos writes. "If she's okay with it, I will fly to wherever Betty White is and keep her safe till Jan. 1, 2017." As of publication, he's raised $2,700.
At first blush, the whole thing sounds a bit morbid, but to Hrysikos's credit, this fundraiser grew out of the social media chatter of fans clamoring to safeguard one of their favorite comic talents, who's previously been subject to several death hoaxes.
Dear 2016,
Don't touch Betty White, don't look at Betty White, don't even breathe on her wrong
Sincerely,
Literally everyone

— 🎄M🎅 (@MuirbucksCoffee) December 27, 2016
2016,
Don't you touch her!

DON'T YOU EVER TOUCH HER!

DO NOT TOUCH BETTY WHITE!

— #RadFinch21🎂 (@RadFinch) December 27, 2016

It also helps that it's self-aware. Per Hrysikos's GoFundMe: "Assuming she doesn't want a strange Greek standing gaurd [sic] outside her door all monies will be donated to the Spartanburg little theater to help craft new stars of stage and screen to carry mantle of the legends that have left is [sic] this year."
That sounds like a noble cause whether White knows or cares about the fundraiser or not. In addition to several charities in the animal activism realm, White's also supported organizations like Autism Speaks, the NAACP, the Trevor Project, and plenty of others. If this money goes to help artists and actors honing their talents, there's no better tribute to her.
And to be clear, the fact that Betty White predates sliced bread is actually just proof that sliced bread arrived late to the party. Betty White's a treasure. As she put it while accepting her 2015 Lifetime Achievement Emmy:
"I had no idea that I would still be around at this point for one thing, but that I'd still be privileged enough to still be in this business. And it is such a privilege. And the bottom line I think to the television business is that unless you're a real bad egg, it is such fun. It really is."
If anyone reading this runs into her on New Year's Eve, treat her to vodka, like David Letterman did. She's earned it, over and over and over.