We Finally Know the PS5's Release Date, Price & Pre-Order Information
if you're excited about the next-gen console, now is your moment to strike.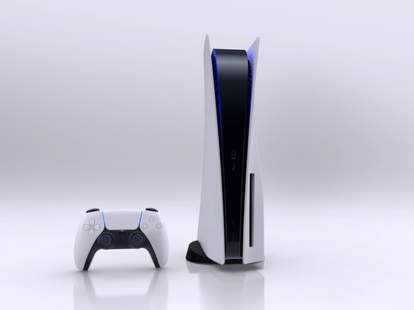 It's been a big year for video games. That's both because we've been trapped in our houses and because there are next-generation consoles on the horizon from Xbox and PlayStation.
Sony has unveiled the long-awaited details about the PlayStation 5. Not the list of games and tech specs, but the boring, very important ones. The PS5 is going to launch on November 12 and cost $499.99, unless you go for the Digital Edition, which runs $399.99. The console is arriving just two days after the Xbox Series X and Xbox Series S.
The PlayStation 4 cost $399 when it launched, according to The Verge. It costs around $100 less now. Sony has not said whether that price will go down further once the PS5 hits shelves. But if you're worried about your PS4 games, there will be backward compatibility for a "majority" of PS4 games. Though, that explanation lacks the details many people will want to hear. Nonetheless, there's a lot to look forward to with the PS5, and you can genuinely start to look forward to it because pre-orders for the console are opening up on September 17.
How to pre-order the PlayStation 5
The official announcement lacked details on the pre-orders other than that "select retailers" will begin pre-orders on September 17. However, some stores appear to have jumped the gun already. Whenever you want to place your order, here are the options currently available.
GameStop will be doing pre-orders on Thursday with availability through its website, the GameStop mobile app, or some limited in-person purchasing, according to an announcement from the store. Though, the announcement gives that ominous "while supplies last" warning, which is either to prepare for the possibility that pre-orders might close up quickly or it just wants you to think that. Hmmm. (Okay, it's probably the former.)
Walmart has a pre-sale going as well. It announced on Twitter that it wouldn't make fans wait until September 17 to pre-order. However, the replies are full of people saying that within an hour of the original tweet, the option to pre-order was no longer available with the page stating that Walmart was out of stock. There are also other saying they kept trying after seeing that page and eventually the site allowed them to purchase. [UPDATE - September 16, 10:55pm: A Walmart spokesperson has confirmed that the store's pre-order is completely sold out. "We will have the console available on 11/2," the spokesperson said by email.]
You're also able to place a pre-order at Target and Best Buy.
Sign up here for our daily Thrillist email and subscribe here for our YouTube channel to get your fix of the best in food/drink/fun.