Supermarket Refuses to Write 'Cum' on 'Summa Cum Laude' Graduation Cake & Oh God No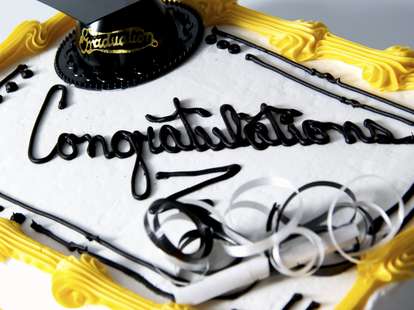 Shutterstock
Shutterstock
A graduation party is meant to be an all-out celebration to mark the culmination of a big life chapter. It's not, generally speaking, a great time to have to have an awkward conversation with your whole family about slang words for semen. Yet, that's exactly what a newly minted grad's big day involved, when a supermarket censored the custom "Summa Cum Laude" cake his mother ordered for the occasion by refusing to put "cum" on it.
After graduating his Christian-based home school program with a 4.89 grade point average, Jacob Koscinski's family threw him a big party this past Saturday. Family came in from out of town to fete the 18-year-old on his accomplishment and his mother, Cara, ordered a cake online from the local Publix supermarket near Charleston, South Carolina, requesting a custom inscription on top reading, "Congrats Jacob! Summa Cum Laude class of 2018." However, because the Publix bakery's custom cake ordering system is automated, the order form took issue with the word "cum," mistaking it for an obscenity rather than the Latin word for "with" in the phrase "with the highest distinction," as it was intended.
Instead, the form showed the message reading "Summa - - - Laude," with three dashes replacing the three letter word in question. Because the form refused her request citing "profane/special characters not allowed," Koscinski attempted to clear up the misunderstanding by explaining in the "special instructions" box what exactly Summa Cum Laude means, and why it's not profane. Then she submitted the order.
On the day of the party, Koscinski asked her husband to pick up the cake. But when he returned and they opened box, the cake read -- you guessed it -- "Congrats Jacob! Summa - - - Laude Class of 2018."
That's when things got super uncomfortable.
As Koscinski wrote in a Facebook post after the incident, the botched message required her to explain to her son and her 70-year-old mother (among others) what happened, and why "cum" was deemed too dirty to put on a cake. Talk about a cringeworthy moment. Fortunately, Jacob took it all in stride, for the most part.
"The cake experience was kind of frustrating and humiliating because I had to explain to my friends and family like what that meant," he told the local ABC affiliate. "And they were giggling uncontrollably. At least my friends were."
Koscinski was understandably pissed about the whole situation, and called up Publix to air her grievances. The manager apologized and not only refunded the $70 cake, but also threw in a store gift card. But, really, is it even possible to put a dollar value on the kind of priceless (albeit mortifying) memories made that day?
In any case, congrats Jacob!
Sign up here for our daily Thrillist email and subscribe here for our YouTube channel to get your fix of the best in food/drink/fun.