Man Grows 910-Pound Pumpkin, Uses It As a Boat, Sinks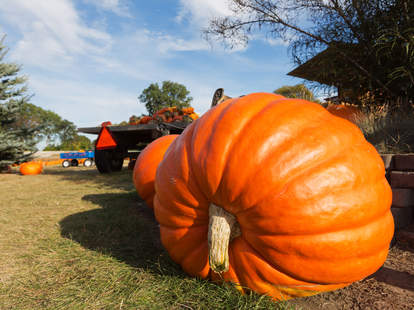 For most people, October is a time to carve basic-ass jack-o-lanterns, plop 'em out on the porch, and hope some jerk doesn't come by and smash your masterpiece. But for Tennessee-based farmer Justin Ownby, the ritual looked a little different this year; namely, because his pumpkin was a 910-pounder that -- instead of chiseling with a spooky expression -- he sculpted into a boat.
According to his wife Christin, who spoke with CNN, Ownby's goal was to grow a 1,000-pound pumpkin. "He was out there daily watering it, covering it during the heat of the day, and making sure the beetles didn't get to it," she said, adding that the seed came from a record-breaking 1,700-pound pumpkin. 
When it was ready, Ownby recruited a neighbor to haul the monstrosity to a very large scale. And while, technically, he didn't hit the mark, it was still a milestone for the pair. "It's the biggest we ever grew," Christin added. "The largest before was 220 pounds."
But instead of opting for an unoriginal jack-o-lantern design (c'mon, snooze), the couple elected for something more useful. Sort of. The Ownby clan -- kids included -- hollowed it out and dragged it to a nearby pond where Justin took the pumpkin for a spin. 
Things started out great, but they quickly took a... turn. Maybe it's because Ownby got cocky or maybe it's because the pumpkin is a pumpkin and not a vessel, but either way, the makeshift boat took on water and sank. Welp.
Sign up here for our daily Thrillist email and subscribe here for our YouTube channel to get your fix of the best in food/drink/fun.
Megan Schaltegger is a staff writer at Thrillist. Follow her @MegSchaltegger.