Just when you thought you were safe from the annual outbreak of pumpkin spice lunacy (PSL) for at least a few more months, there's now word of yet another classic food product that will soon take on the cult-favorite flavor widely associated with grande cups and yoga pants. General Mills has announced limited-edition Pumpkin Spice Cheerios are on the way, and well, they're about to become a part of your basic breakfast. 
As first detailed in a report by Bloomberg, General Mills is turning to "innovations" like limited-edition pumpkin spice-flavored cereal that it hopes will help reverse years of declining sales. A spokesperson for the multinational food giant said the pumpkin spice sugar rings will land on store shelves around Labor Day (September 5th) this year. Meanwhile, another limited-edition Cheerios flavor, Strawberry Cheerios, is already rolling out to cereal aisles near you. 
As you may know, 2015 was a big year for pumpkin spice with the launch of pumpkin spice-flavored Peeps and Starbucks' all-new Pumpkin Spice Latter recipe. And with such a big pumpkin spice announcement dropping well before May, there's no telling what true pumpkin spice season will hold this fall. We might just end up like this guy. 
Here's a look at the pumpkin spice cheerios box:
 
Recommended Video
E-40 Discovers Portland's Underground Food Scene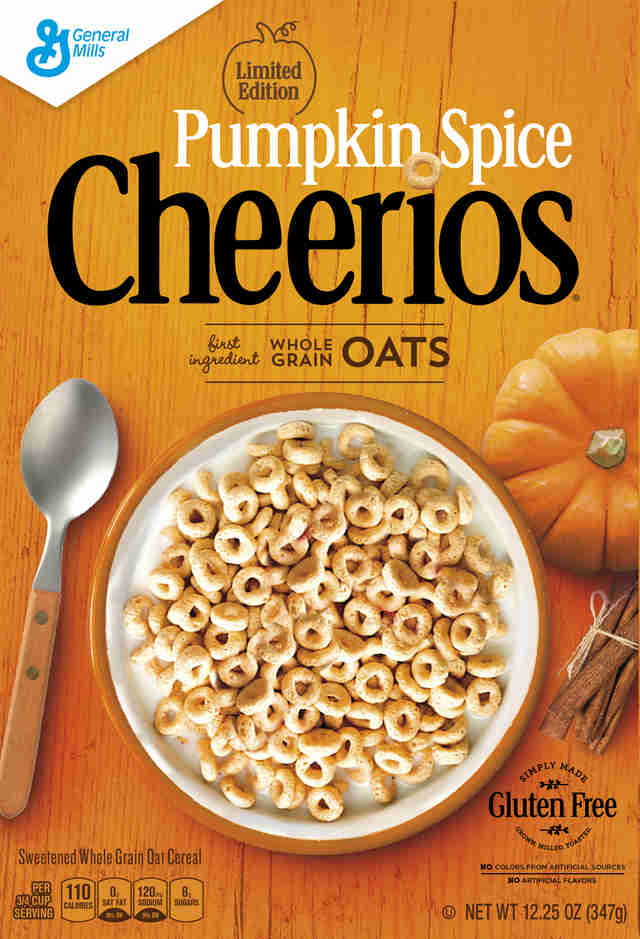 Sign up here for our daily Thrillist email, and get your fix of the best in food/drink/fun.
Tony Merevick is Cities News Editor at Thrillist and feels like the only proper way to eat these would be drenched in an iced pumpkin spice latte instead of just milk. Send news tips to news@thrillist.com and follow him on Twitter @tonymerevick.