Of Course There's a PSL-Scented Deodorant Now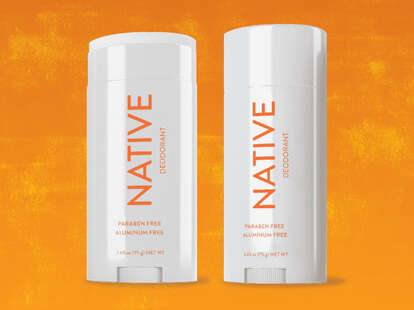 Native/Maggie Rosetti
Native/Maggie Rosetti
Given the perennial popularity of Starbucks' Pumpkin Spice Latte, it's no surprise that every last food and drink brand, from McDonald's to Krispy Kreme, has scrambled to cash in on PSL fever by offering their own vaguely cinnamon- and nutmeg-flavored items. But how far is too far?
That's the question we can't help but grapple with after discovering that a small deodorant company is now selling its very own PSL-scented stick, designed to keep your pits pumpkin spicy-fresh all day long.
Native, the brand behind this new and slightly absurd autumnally aromatic underarm stick, makes all-natural, aluminum- and paraben-free deodorant for men and women in a number of more conventional scents like eucalyptus and mint, cypress and cedar, and lavender and rose. It's unclear who exactly is yearning to walk around smelling like a Starbucks cafe in mid-September, but judging by the rabid fandom surrounding the seasonal frothy beverage, odds are plenty of people are willing to try it out.
To its credit, Native isn't ushering in fall prematurely. It won't be shipping out the PSL sticks until September 5, though you can pre-order them now for $12 a pop, roughly the price of three actual PSLs.
h/tBustle
Sign up here for our daily Thrillist email and subscribe here for our YouTube channel to get your fix of the best in food/drink/fun.