15 International Olympic Athletes You Should Know
The 2018 Winter Olympics in PyeongChang, South Korea will finally be here on Thursday. After four long years of waiting, you'll be treated to more than two weeks of stunning scenes from a winter wonderland of transcendent competition, bountiful contraceptives, and whatever curling is. It's going to be both freezing and amazing.
With 2,925 athletes representing 90 nations, there's a lot of stories about redemption and ambition to be told. You can learn all about the Americans here, but let's take a moment to hear about our friends across the world. This isn't all about dominance, remember? It's also about coming together to celebrate how weird and overly competitive the whole human race is deep down.
So, here are 15 international Olympians you should know and keep an eye out for during the Winter Games:
Michael Hirscher
Sport: Skiing
Age: 28
Country: Austria
Hirscher specializes in slalom and giant slalom and holds the men's record with six overall World Cup titles. Despite 45 World Cup wins and a silver medal back in 2014, the Olympic gold has evaded him. Since he doesn't intend to compete in 2022, this is his last shot at it, so pay attention.
Kaillie Humphries
Sport: Bobsled
Age: 32
Country: Canada
This will be Humphries' third Olympic games since she made her debut at Vancouver 2010, where she and her brakeperson (Heather Moyse) became the first Candian women to win the Olympic bobsleigh gold. They defended that title in Sochi four years later and became the first female back-to-back Olympic bobsleigh champions. In 2016, she also became the first woman to drive an all-female team against an all-male team in a four-person World Cup bobsled race. This year both she and Heather Moyse will be competing, but not together.
Mikael Kingsbury
Sport: Freestyle Skiing
Age: 25
Country: Canada
Called "the Wayne Gretzky of mogul skiing," Kingsbury won silver at Sochi back in 2014. He earned his first World Cup victory at 18 in 2010, and has since racked up a total of 47 World Cup victories. He's been known to wear a lucky undershirt that says "It's Good to be the King," and honestly that doesn't sound far off.
Marie-Philip Poulin
Sport: Hockey
Age: 26
Country: Canada
Captain of the Canadian women's hockey team, Poulin was the leading scorer for Canda in 2014 despite being in recovery from a high ankle sprain. At 18, she was the youngest member of the team that won gold at Vancouver 2010. She's been captain of the national team since she was 25 in 2015.
Mark McMorris
Sport: Snowboarding
Age: 24
Country: Canada
McMorris got the nickname "McRib" after he broke a rib at 2014 Winter X Games, less than two weeks before he was set to compete at the Sochi Olympics. Despite this, he still managed to nab a bronze medal. He was also the first person to land a backside triple cork 1440, which involves three flips and a full spin.
Ester Ledecká
Sport: Snowboarding/Skiing
Age: 22
Country: Czech Republic
Ledecká is a world-class skier and snowboarder and was the first to compete in the world championship in both sports -- and managed to nab a gold in snowboarding. She's at the top of the World Cup standing for Alpine snowboarding and her best finish in skiing is 13th.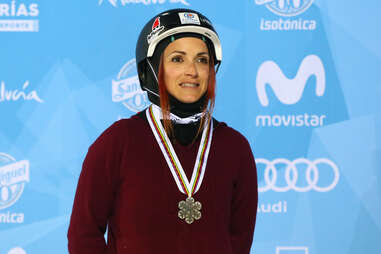 Marie Martinod
Sport: Freestyle Skiing
Age: 33
Country: France
Despite often being the oldest athlete in competitions at 33, Martinod hasn't stopped dominating, like last year when she won the AFP (Association of Freeskiing Professionals) halfpipe title and landed a 900 that was over 11 feet out of the pipe at the 2017 X Games. She competed in the Sochi Olympics in 2014 after five years of retirement and becoming a mother and took silver in the halfpipe competition that year. She plans to retire this season.
Martina Sáblíková
Sport: Speed Skating
Age: 30
Country: Czech Republic
Sáblíková has five Olympic medals, three of which were golds. The Olympic website calls her "the Czech Republic's greatest ever speed skater." She's also a world-class road cyclist and placed 12th in the 2015 World Road Cycling Championships time trial. This will be her fourth Winter Games.
Elise Christie
Sport: Speedskating
Age: 27
Country: Great Britain
Christie was the talk of Sochi 2014 but not in a good way. She was expected to win gold but was disqualified for all three of her events for collisions and a technical infringement. She's now the world champion in 1,000 and 1,500 and set a record in the 500 at a World Cup event. As the reigning overall champion in women's short track, she's poised for another shot at gold this year.
Yuzuru Hanyu
Sport: Figure Skating
Age: 23
Country: Japan
Some people call him the greatest figure skater ever, others call him the Ice Prince. This year he'll attempt to win back-to-back gold medals for figure skating, which hasn't been done since the US's Dick Button did it in 1948 and 1952. Hanyu was also the first male Asian skater to win gold at the Olympics. Though he's recovering from an ankle injury, he's favored for that second gold.
Sara Takanashi
Sport: Ski Jumping
Age: 21
Country: Japan
Takanashi shares the all-time record for most individual ski jumping World Cup wins. She came in fourth in Sochi, so she has no Olympic medals to her name yet, but this might be her year.
Sven Kramer
Sport: Speed Skating
Age: 31
Country: Netherlands
Kramer will be trying for his third consecutive 5,000-meter gold and has a chance to land a second gold with the Dutch pursuit team. He's one of the three most successful male skaters in the history of the Games. He was also the first speed skater ever to win four consecutive world allround championships and eight consecutive international allround championships.
Kamil Stoch
Sport: Ski Jumping
Age: 30
Country: Poland
In 2014, Stoch was a double gold medalist at Sochi and won the FIS World Cup title. While he had a brief dip down to 22nd place in the World Cup, he's won the Four Hills Tournament two years in a row, and this year he swept all four stages, the second ski jumper ever to accomplish this.
Javier Fernandez
Sport: Figure Skating
Age: 26
Country: Spain
Fernandez is Spain's great hope for winning its third-ever Winter Olympic medal, which would also be its first since 1992. To give you an idea of Spain's winter sports culture, Fernandez has to train in Canada. After a fourth-place finish at Sochi, this will be his third and final Winter Games.
Lara Gut
Sport: Alpine Skiing
Age: 26
Country: Switzerland
Gut made her World Cup debut at 16, then won silver at the 2009 World Championships at just 17. She couldn't compete in the 2010 Olympics because of a dislocated hip, so her record could be even better than it is now. After a bronze at Sochi in 2014, this could be the year she lives up to her potential.
Sign up here for our daily Thrillist email and subscribe here for our YouTube channel to get your fix of the best in food/drink/fun.


James Chrisman is a News Writer at Thrillist who believes making snow angels should be the marquee event of the Winter Games. Send news tips to news@thrillist.com and follow him on Twitter @james_chrisman2.