This Airline Has $200 Round-Trip Flights to Australia. Here's How to Get Them.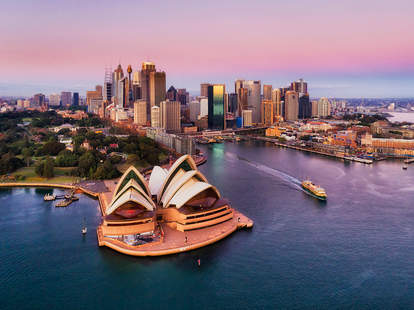 Round-trip plane tickets under $200 are a rare find, and more often than not, basic economy seats to somewhere within the continental United States. Rarely do you see these flights to another country for such a low price -- let alone another country on the other side of the planet. But in honor of Qantas Airways' 100th anniversary, the world's oldest operating carrier is hosting a birthday sale with $100 flights... to Australia.
ICYMI, traveling to Sydney is obscenely expensive. The 20 hour (or more) trip can easily set you back over a grand. So to celebrate one whole century in flight, Qantas went big -- delivering 100 one-way airfares each day for $100 a pop. Beginning Monday, November 18, through Thursday, November 21, the company will release tickets at 5pm EST.  You'll have to snap 'em up fast, though. Once they're sold out, they're sold out. 
Departures are available through four US travel hubs: Los Angeles, San Francisco, Dallas/Fort Worth, and Chicago. In addition to those run-of-the-mill blackout dates, also note that these $100 fares are for one-way flights. But unless you're planning some elaborate leave the country, change your name, and never comeback scheme, you'll need that return flight anyways. 
If you do miss out on the sale (it is a luck of the draw kind of deal), Qantas is also offering $699 Economy, $2,399 Premium Economy, and $4,599 Business fares to Sydney, Melbourne, and Brisbane.