The sliding door trend is catching on across Business Class cabins throughout the airline industry. Qantas Airways is the latest to adopt the feature, with new Next Generation Business suites that have sliding doors for added privacy. Additionally, the First Suites will feature a fixed flat bed, separate lounge recliner and wardrobe. There will also be free Wi-Fi installed across Qantas' A350 fleet.
Qantas' new First and Business class cabins will be debuted on the nonstop flights from Australia to New York and London in late 2025. In order to accommodate these larger seats and cabins, the 12 Airbus A350s will seat 238 passengers, instead of the usual 300-plus designs with other carriers.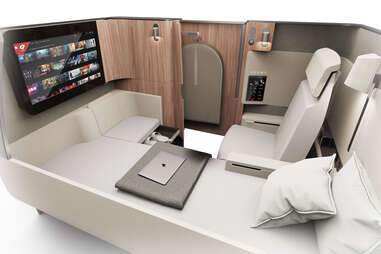 The First Class suites promise to feel like a mini hotel room, with an extra-wide fixed bed, a recliner chair, a personal wardrobe, dining table to accommodate two people, and a 32-inch television.
"Qantas has been the leader in opening up new long-haul flights for most of our history, and we're bringing everything we've learned, both technically and in terms of passenger comfort, to Project Sunrise flying," said CEO Alan Joyce in a statement. "We think our A350 cabins have the most sophisticated and thoughtful design of any airline, combining cutting edge technology with sleep research to shape the look and feel for what is effectively a new era of travel."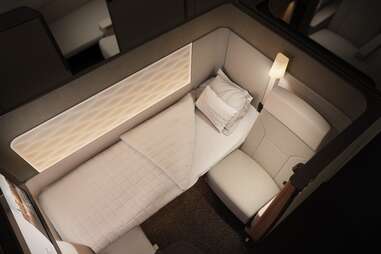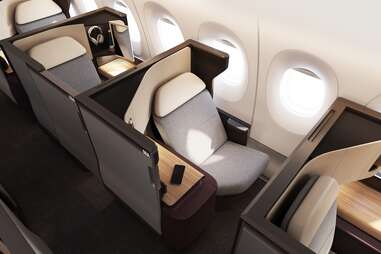 The Business Class cabins will have sliding doors, a two-meter flat bed, extra storage, and an 18-inch television. Both updated cabins will offer wireless charging spots and more device charging inputs.