The Queen Will Pay You $70,000 to Run Her Social Media Accounts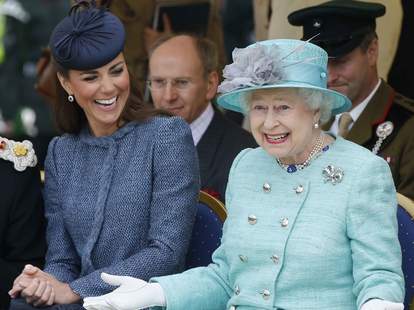 Seeing as you're already a seasoned pro at racking up likes and followers on social media, there's a good chance you're qualified for an exciting new social media job with sweet perks like free lunches and plentiful vacation days. Oh, and one more thing: you'd be working for Queen Elizabeth II and the Royal Family. At freaking Buckingham Palace. Making about $70,000 a year. No big deal.
Sure, your boss probably already acts like he's a damn monarch, but in this case, you'd be answering to an actual, real-life monarch, The Queen. Specifically, the Royal Household is looking for a Head of Digital Engagement, who will "lead on and develop our digital communications strategy" and use various digital and social media platform to "engage a worldwide audience," according to the official job description.
The enormous responsibility of running the Queen's website, for example, comes with some pretty big pay with an annual salary of anything from £45,000 to £50,000 (about $64,000 to $71,000), depending on your experience. You'll also get perks like free lunches, 33 vacation days, and various other benefits. The job listing makes no mention of hanging out with the Queen and double-tapping Instagram pictures for her, but that's got to be part of the job, too, right?
"You'll provide digital and editorial leadership to a small team of digital media specialists, drive the content strategy of our newly launched website, and work with colleagues across the organisation to continuously improve our digital presence," the job description states. "Whether you're covering a state visit, award ceremony or royal engagement, you'll make sure our digital channels consistently spark interest and reach a range of audiences."
If that sounds like your cup of tea (OK, we'll show ourselves out now), the Queen is looking for candidates with experience in "managing and editing high profile websites, social media and other digital formats" and people with "compelling writing and editorial skills, and expertise in designing digital content for different audience groups, purposes and formats." It's worth noting; however, that they'll only consider your application if you have the right to work in the United Kingdom. The deadline to apply is April 24th, or as they like to say across the pond, the 24th of April. Whatever that means.
Sign up here for our daily Thrillist email, and get your fix of the best in food/drink/fun.
Tony Merevick is Cities News Editor at Thrillist and is currently dusting off his resume. OK, just kidding boss! Send news tips to news@thrillist.com and follow him on Twitter @tonymerevick.