Hurry and Get Quibi's 90-Day Free Trial While You Still Can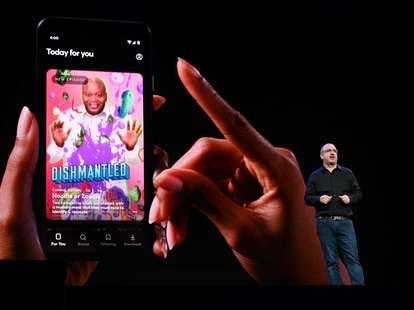 Quibi demo at CES 2020. | ROBYN BECK/AFP via Getty Images
In the past 10 years, we've gone from watching cable and occasionally ordering DVDs from a service called "Net-Flix?" to streaming our shows and movies on a dozen different platforms all located on the same smart TV. It's the golden age of "streaming," and it's clear from the recent introduction of Apple TV+ and Disney+ that the streaming war isn't over. But maybe it's time for a quick intermission?
Nah, says the soon-to-be-released streaming service Quibi, and I'll give you 90 days free if you pre-order the service.
First of all, for those who don't know what Quibi even is, it's a streaming platform for short-form entertainment, designed exclusively for mobile use. The platform will give you access to series and films told in short chapters. It's set to launch on Monday, April 6, with 50 shows and movies.
I know what you're thinking... That you already have Netflix, Hulu, Amazon Prime, Disney+, Disney-, Disney#, and Disney*, so why would you need another service? Here's the thing: There's a crap-ton of money going into Quibi, and it's already attracting big names in Hollywood (Jason Blum, Chrissy Teigen, Steven Soderbergh, etc.). Plus it's $4.99 a month with ads, and $7.99 without.
To pre-order, go to Quibi.com on your mobile device and click the purple pre-order button at the top of the page, which'll automatically link out to the right page in the App Store. Once you pre-order in the App Store, the app will automatically download to your iPhone when immediately upon its official launch. Then you'll be able to sign up and receive the 90-day free trial.
Here are some of the biggest shows coming to Quibi, including a modern reboot of one of my favorite movies, How To Lose A Guy in 10 Days. So check out the list and decide if you're willing to lose $5-7 in 90 days -- just make sure you sign up before the end of April.
Sign up here for our daily Thrillist email and subscribe here for our YouTube channel to get your fix of the best in food/drink/fun.