There's a fine line between being a wine enthusiast and having a wine obsession, and that line happens to intersect at one precise geographic location: this vineyard in Portugal where you can stay overnight in a hotel suite built inside a giant wine barrel.
The Quinta da Pacheca estate in Douro, Portugal is offering special overnight accommodations for oenophiles looking for a particularly up-close experience, with 10 special suites built into oversized wine barrels situated just feet from its sprawling vineyards. The rooms aren't just a novelty afterthought, either. They're equipped with plenty of luxurious amenities you'd find in a typical hotel room, including private bathrooms with a walk-in shower, skylights, big round beds, and a private terrace. 
"Quinta da Pacheca created the wine barrels as a bold architectural project of suites to reinforce the originality of the wine tourism offered at the site," a vineyard representative said, per Metro. "In an idyllic romantic setting, these wine barrel rooms will provide visitors a unique experience to the nature and significance of the Douro wine region."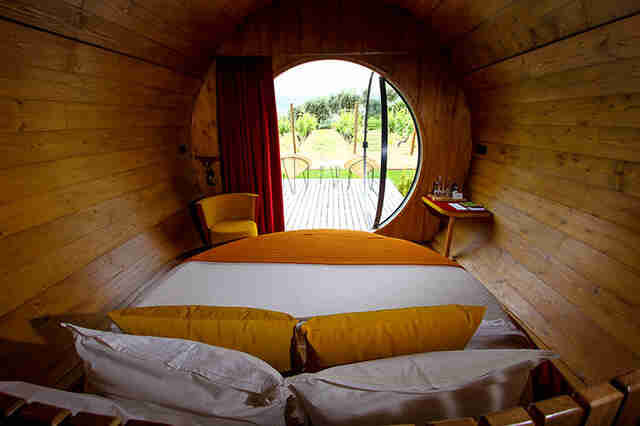 At the moment, you can book a stay in one of the barrels, which are roughly 270 square feet apiece, for about $290 a night. Then again, if you'd prefer a more traditional hotel experience, Quinta da Pacheca also has regular rooms for rent. 
Either way, before tucking in for the night, you can spend your day and evening exploring the grounds of the 140-acre estate and sampling its wide assortment of vino in the tasting room. For dinner, you don't have to go far, since the vineyard has its own on-site restaurant, The Wine Room, which serves up upscale and authentic Portuguese fare every evening. 
Then, once you've crossed "sleeping in a wine barrel" off your bucket list, you can move onto trying out other unorthodox accommodations, like suspended glass cabins.
h/t Food & Wine
Sign up here for our daily Thrillist email and subscribe here for our YouTube channel to get your fix of the best in food/drink/fun.