In Las Vegas, you can famously gamble all day, party all night, and even visit Venice without ever going outside or knowing what time of day it is. However, this week a certain meteorological attraction stole the spotlight and brought tourists into the streets to scope out something Sin City rarely sees: a whole bunch of snow on the ground.
Thanks to a big winter storm that plowed through the Southwest earlier this week, Las Vegas was dusted with about a half inch of snow on Wednesday, which brought a certain sense of whimsy to the typically dry neon desert oasis. Snow accumulation there is so rare that people took a break from the revelry to hit the streets snap photos in front of famous sights (including the iconic Welcome To Last Vegas sign) as the white stuff rained down.
Recommended Video
Thrillist's Best (and the Rest): Traveling With a Partner vs. Traveling in a Big Group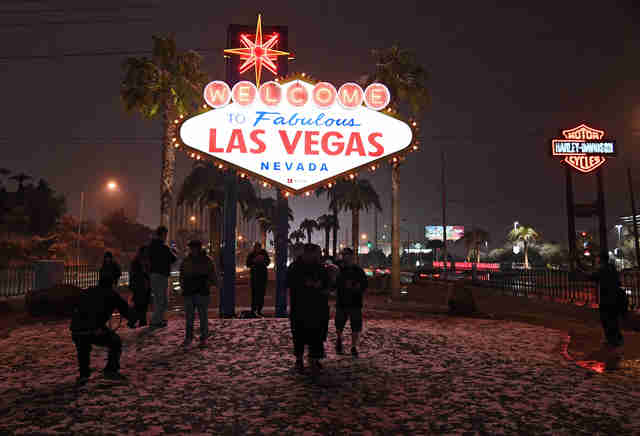 Incredibly, this wasn't even the first time it snowed in Vegas this month. The city got a dusting on February 10, and also a bit on Monday and Tuesday of this week. Wednesday, though, marked the first time the city had seen any measurable snowfall since 2008, according to CNN. The dumping may not be over just yet either, as the National Weather Service predicts about a half inch more late Thursday. 
It would take a serious dumping to get anywhere close the record for accumulation, though, which stands at 7.4 inches back in 1979 according to the National Weather Service. Still, February 2019 is still on track to be somewhat remarkable in that Wednesday's half-inch of white stuff was the second-most to ever come down this late in the year. 
Then again, it being Vegas and all, you have to believe at least a few people are making bets over exactly how much more snow will come down.
h/t CNN

Sign up here for our daily Thrillist email and subscribe here for our YouTube channel to get your fix of the best in food/drink/fun.