Good God is Pokémon Go popular. In just a little over a week, the game has surpassed Tinder in popularity. Not good enough? OK, it's more popular than porn. And after all, the Internet is for porn. But not all Pokémon are created equal -- and you don't need to be Ash Ketchum to understand that.
With that in mind, the people at Decluttr, a website that helps people resell their media and electronics, sifted through Google data to figure out which Pokémon are rarest in every state. To do that, the number crunchers "took phrases like 'where is…' and 'how to find…', paired them up with the Pokémon in the game and measured the volume of searches in each state."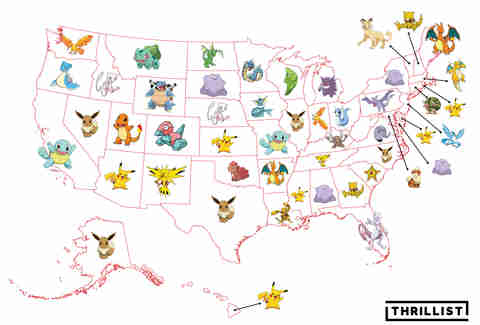 Unsurprisingly, as Decluttr points out, Pikachu is the most popular Pokémon in America. But the second-most popular? Eevee. Eevee's pretty cute, so that makes a modicum of sense. But c'mon. Voltorb all day, amirite?
Nah.
If you somehow struggle with maps, worry not. Here's the full, alphabetical list of the rarest Pokémon in each state.
Alabama
Ditto
Alaska
Eevee
Arizona
Pikachu
Arkansas
Charizard
California
Squirtle
Colorado
Porygon
Connecticut
Golem
Delaware
Pikachu
Florida
Mewtwo
Georgia
Abra
Hawaii
Pikachu
Idaho
Mew
Illinois
Eevee
Indiana
Moltres
Iowa
Vaporean
Kansas
Pikachu
Kentucky
Pinsir
Louisiana
Electrabuzz
Maine
Charizard
Maryland
Ditto
Massachusetts
Dragonite
Michigan
Gengar
Minnesota
Gyarados
Mississippi
Pikachu
Missouri
Squirtle
Montana
Bulbasaur
Nebraska
Mew
Nevada
Eevee
New Hampshire
Abra
New Jersey
Articuno
New Mexico
Zapdos
New York
Ditto
North Carolina
Eevee
North Dakota
Scyther
Ohio
Dratini
Oklahoma
Vulpix
Oregon
Lapras
Pennsylvania
Aerodactyl
Rhode Island
Pikachu
South Carolina
Staryu
South Dakota
Ditto
Tennessee
Zapdos
Texas
Eevee
Utah
Charmander
Vermont
Persian
Virginia
Onix
Washington
Moltres
West Virginia
Growlithe
Wisconsin
Metapod
Wyoming
Blastoise