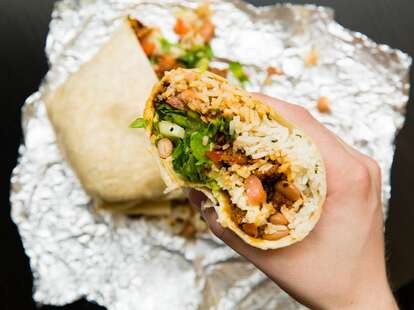 Just days after Chipotle temporarily closed one of its restaurants due a food-borne illness scare, diners at one of the burrito chain's Dallas locations were shocked when rats literally fell from the ceiling on Wednesday. Footage of the incident was originally posted to Facebook, providing a glimpse of the unexpected lunch date with the rodents.
As a report by Eater explains, the store's management was surprisingly casual about the rats in the restaurant's ceiling and offered the customers a benign apology. The particular Chipotle location in Dallas' West End neighborhood has a very clean track record, having scored 94 out of 100 points in its last health inspection, per the report.
The original Facebook video -- uploaded by customer Bahadir Han Koseli -- is currently unavailable in its original form, although copies of it have been ulploaded to YouTube. The rats, which allegedly fell from the ceiling while patrons were eating lunch, can be seen scurrying around the restaurant's floor:
Chipotle was quick to respond to the footage, and said the occurrence was "an extremely isolated and rare incident," and happened after "mice got into a restaurant from the outside," according to the report.
The rat fiasco puts more scrutiny on the burrito empire, which temporarily shuttered a Virginia restaurant on Tuesday after a possible norovirus outbreak sickened at least 13 customers. Chipotle grappled with a string of E. coli and norovirus incidents at a variety of locations in 2015, resulting in a bruised public image, financial woes, and inner-turmoil at the company. According to the CDC, norovirus is a highly contagious illness that results in diarrhea, nausea, and vomiting. It's the leading cause of food-borne illness in the United States.
And although it's unrelated to either incident this week, the company just launched a new marketing campaign featuring a music project with RZA and a deal for free burritos to lure more customers into its restaurants.
Sign up here for our daily Thrillist email and subscribe here for our YouTube channel to get your fix of the best in food/drink/fun.

Sam Blum is a News Staff Writer for Thrillist. He's also a martial arts and music nerd who appreciates a fine sandwich and cute dogs. Find his clips in The Guardian, Rolling Stone, The A.V. Club and Esquire. He's on Twitter @Blumnessmonster.