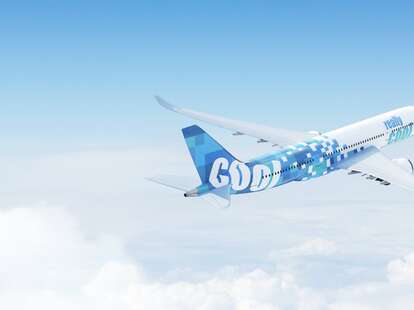 Courtesy of Really Cool Airlines
There are plenty of airlines that have become household names, like Southwest, Delta, and JetBlue. But a new airline coming to the scene is arriving with an even catchier name. At an event in Bangkok this week, a new airline launch was announced. Really Cool Airlines is set to announce plans for a fleet in the coming months, but right now, we've got plenty of other information to chew on.
For starters, Really Cool Airlines' promotional video prompts us all to really think about what the airline industry could be offering. I'm not sure if anyone can truly reinvent the wheel for the industry, but I'd be a loyal customer to any airline that can promise more comfortable economy seats.
"We are thrilled to introduce Really Cool Airlines and look forward to providing travelers with an exceptional flying experience," Patee Sarasin, Really Cool Airlines' chief executive said during the launch, according to news reports. "Our team of experts has worked tirelessly to create a new standard for the aviation industry, and we're excited to unveil in the coming months what we have in store."
According to the Really Cool Airlines' website, service will begin in December 2023. I can't wait to start telling my friends about flying Really Cool Airlines and they'll ask, "Oh, which one?" I'll say, "It's Really Cool," and then we will have a 21st century iteration of that Abbott and Costello bit, except my friends won't think it's funny.