60,000 Pounds of Chicken Nuggets Recalled for Potentially Containing Rubber
The nuggets "may be contaminated with extraneous materials, specifically flexible rubber material."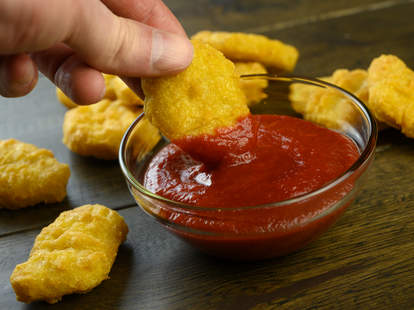 Happy Pride! Pilgrim's Pride Corporation is recalling around 59,800 pounds of fully cooked chicken breast nugget products that may contain flexible rubber material, according to the US Department of Agriculture's Food Safety and Inspection Service (FSIS).
While many of us assumed -- and accepted -- the presence of a little rubber in our frozen chicken nuggets, the FSIS said "extraneous materials" are cause for concern. The ready-to-eat products are currently getting stripped from store shelves, following a consumer complaint. While there are no reported injuries or illnesses, some folks just have higher standards for their food.
Pilgrims
The products were shipped to retail locations in Arizona, Idaho, Oregon, and Texas. Consumers should look out for 4lb plastic bag packages containing "Pilgrim's Fully Cooked Chicken Breast Nuggets," with a best-by date of "06 MAY 2021" and lot code of "0127." These products have the establishment number "P-20728" printed on individual retail packages and product cases. 
If you have any questions, contact Ed Tyrrell, the Consumer Relations Manager for Pilgrim's Pride, at (800) 321-1470. Unless, of course, you're feeling sick. Then call a doctor and give our boy Ed a ring once you've recovered.
Sign up here for our daily Thrillist email and subscribe here for our YouTube channel to get your fix of the best in food/drink/fun.
Ruby Anderson is a News Writer at Thrillist. Send your tips to randerson@thrillist.com.