600,000 Pounds of Flour Recalled for Possible E. coli, so Maybe Drop That Cake
Recent food recall news has made E. coli contamination seem relatively vanilla; some of my favorite, more exotic taints of late are uninspected animal carcasses, Hepatitis A, and the concerningly vague "foreign matter."
But I don't think you need me to tell you that E. coli breakouts should still be taken seriously, regardless of how, I guess, cliché they've become in food distribution. Especially for grocery items as common as General Mills' Gold Medal Unbleached All Purpose Flour. 
Yep, your five-pound pack of Gold Medal flour that says "Premium Quality Since 1880" may be lying to you, if your pack has a use-by date of September 6, 2020. According to the Food and Drug Administration (FDA), General Mills found E. coli in the flour during a quality control check. Not so premium since 1880 now, whispers competitor Pillsbury Best Unbleached All Purpose Flour. Scratch that -- Pillsbury had its own major flour recall over the summer.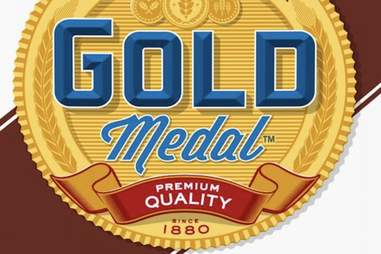 Gold Medal
USA Today reports that the recall affects roughly 600,000 pounds of flour, or 120,000 of five-pound bags. Thankfully, according to the FDA, there have been no reported sicknesses so far. No other Gold Medal Flour packages are included in the recall. 
That being said, if you start feeling sick, see a doctor and contact local health authorities. If you don't have your local health authority on speed dial, just call the police and they'll do something productive. You've suffered enough already.
If you're thriving, but have that flour in your cabinet, go check and see if it's the naughty flour. And then throw it out, ASAP.
The FDA says that consumers who have to toss their pack should call General Mills Consumer Relations at 1-800-230-8103 or visit www.generalmills.com/flour to get reimbursed for the $5 staple item.
Sign up here for our daily Thrillist email and subscribe here for our YouTube channel to get your fix of the best in food/drink/fun.