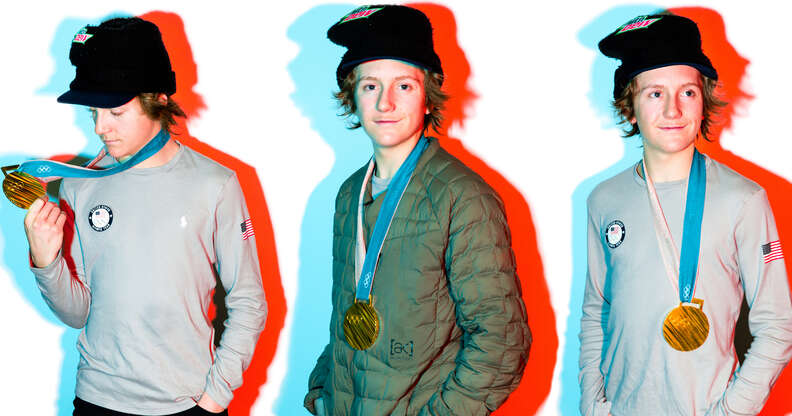 Cole Saladino/Thrillist
Cole Saladino/Thrillist
Teen Gold Medalist Red Gerard: I Might Not Have Said F*ck on TV After All
Red Gerard, the 17-year-old snowboarder who unexpectedly strode to the top of the podium in Men's Slopestyle at the 2018 Winter Olympics in PyeongChang, has become an overnight celebrity. After nailing a mind-boggling maneuver that we dare not even attempt to name in the final jump of his final run, Gerard watched his score come in, clinched the United States' first gold medal of the Games, and promptly swore on live television.
Or that's at least how the story shakes out: Gerard overslept the night before his historic run because he was up late watching Netflix. When he woke up, he had to borrow his roommate's jacket just to get to the slopes on time. He's been called a real-life Jeff Spicoli, which is a comparison he graciously accepts. Since the Games, he's been on a whirlwind media tour, glad-handing the likes of Jimmy Kimmel with his gold medal perpetually hanging off his neck.
The only Olympic athlete to ever set foot in Thrillist's office stands a compact 5 foot, 5 inches and rarely leaves his hotel without wearing a big, floppy hat that he picked up at a thrift store in Aspen, Colorado. We talked to him about what the sudden attention feels like, how much he adores Chipotle, what it means to "get Gerarded," and how it might not have actually been him who said "holy f*ck" on live TV in front of the entire world.
What's all of this attention been like for you?
Red Gerard: It's definitely something new to me for sure. I just kind of got thrown into it and I'm just sort of in the process now.
Walk me through your own version of events during your gold medal winning morning.
Gerard: Yeah, people love that. It was mellow to be honest. I woke up a little bit late, just hit the snooze button, and then couldn't find my jacket I had to borrow that and then after that things went smooth from there.
How late were you up that night watching Netflix? Do you remember what you were watching that night?
Gerard: Like 11:30. It's wasn't too late at all. I was just trying to get rid of the jet lag. I was watching Brooklyn 99.
When you landed that last jump to win gold, what was going through your head?
Gerard: I think I was just more psyched to land a run, you know? I came there to land a run. It would have been a pretty big bummer to fall on all three, so just to land one I was stoked. I wasn't really thinking too much of it at the time, I was just like 'Alright, cool, we're done now.'
What was the reaction to you accidentally swearing on live TV?
Gerard: I think it was more of just a happy time. I've actually been told it was the person hugging me that swore, to be honest.
Oh, really?
Gerard: But I know I probably swore afterward too. I don't know, I'd just won a gold medal. I can't keep my naughtiness in.
You've become an overnight sensation, especially on the internet. What does it feel like to be a meme?
Gerard: I'd say my Dad is more of a meme than I am, he's got some funny ones out there. I think one of them is where he's wearing a cowboy hat and it says 'I like how Red Gerrard's Dad is sitting in a Korean crowd and drinking what looks to be a Korean Tecate.'
Your family was there at the Olympics shotgunning beers, I understand?
Gerard: Yeah, they were doing some early morning partying, for sure, but I think they were just psyched. Their kid was in the Olympics and they wanted to celebrate.
What does it mean to get 'Gerarded?'
Gerard: It's just like a, I don't know, a way to celebrate. A word for our family to mean having a good time. It slowly just became this thing that my family just says now.
Have you ever overslept for any other competitions in your career?
Gerard: Uh... yeah. Maybe. [laughs]
What's your earliest memory of snowboarding?
Gerard: Probably when i was like seven-ish, when we just moved out to Colorado. I was learning how to snowboard on this huge mountain and just getting used to it. We were at Copper Mountain. I remember I used to bomb the hill and just slide out right to my butt. Like not learning how to carve at all.
You're turning 18 in June, do you have any plans for your birthday?
Gerard: Hopefully go somewhere tropical and hang out. Have a good one.
When did you first dream of going to the Olympics?
Gerard: I never really had the goal of going to the Olympics. I think it was just that I did all of the contests leading up to it and wound up making the cut. But I never really had the goal to be there in 2018.
Has it been hard to keep track of your gold medal?
Gerard: Honestly, I've just given it to my brother or my agent or something, and let them hold it because I'll probably just lose it.
What's your favorite thing about the Olympics that people watching at home don't get to see?
Gerard: Probably the people there. I think one thing that I'd like to get out to people is that, it's just a really fun event. We're all homies up at the top, we all know each other pretty well, and we're just there to have a good time.
So, you're kind of a Chipotle fan, I understand?
Gerard: Yeah, real big fan. Love it, it's one of my favorite foods.
What's your favorite order there?
Gerard: I don't know -- it depends on the day. I like it all. I'd say my most common thing is I get hardshell chicken tacos. Really good.
Did you get to eat any of the free McDonald's provided at the Olympics?
Gerard: I didn't actually, that was down in the coastal village and we were up in the mountain village. I wish that would have been awesome, I could have used that juice. That would have been nice.
What's the breakfast of champions?
Gerard: I don't know, I just kind of go with the flow and eat whatever. I think that morning I had some oatmeal?
How do you deal with pressure?
Gerard: I don't know, it's kind of a funny thing. I kind of just go through it. I never really thought I was going to be in the Olympics, so I never really felt the pressure of it. But you sometimes get nervous up at the top and all that. You just have to focus on snowboarding and focus on what I'm there to do.
If you didn't snowboard, what would you do?
Gerard: I could be a golfer. I could just see myself out on the tees drinking an iced tea.
What do you like about golf?
Gerard: It's just much different than what I do. It's just so much different being in warm weather. The feeling of getting a good shot is so nice.
What sports are you really bad at?
Gerard: Everything besides snowboarding and skateboarding, I guess.
Sign up here for our daily Thrillist email and subscribe here for our YouTube channel to get your fix of the best in food/drink/fun.
 
Sam Blum is a News Staff Writer for Thrillist. He's also a martial arts and music nerd who appreciates a fine sandwich and cute dogs. Find his clips in The Guardian, Rolling Stone, The A.V. Club and Esquire. He's on Twitter @Blumnessmonster.