Red Lobster Just Unleashed Lobster and Cheddar Bay Biscuit Waffles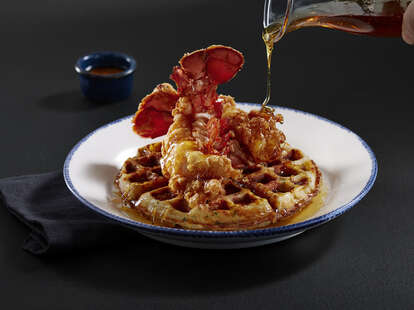 Chicken and waffles are the best, but you already knew that because it's a big deal. However, if you wanted to change up your protein and have, say, lobster and waffles, you'd have to frantically run between a Waffle House and a Red Lobster swapping bites until you were too winded to finish your meal. (You probably didn't consider eating this or doing that, but now you're thinking about it and it might be worth it. Right?)
Starting Monday, March 26, you'll no longer need to sprint between adjacent fast-casual restaurants. Red Lobster is introducing a lobster and waffle dish, and the waffles are made with batter from its cultishly loved Cheddar Bay Biscuits. The Maine lobster tail atop the waffle is crispy, buttermilk-battered, and fried with a little maple syrup drizzled up top.
It takes the unbeatable combination of sweet and savory and adds cheese, which is always a good thing unless you're an artery.
The dish will carry a slightly different price in each market, but Red Lobster says it'll average around $19.99 per plate. It's only around for a limited time, though. So, if you need to try this weird dish, you'll have to get into a Red Lobster soon. Though, Cheddar Bay Biscuit waffles seem like an idea that should stick around a little longer.
Sign up here for our daily Thrillist email, and get your fix of the best in food/drink/fun.
Dustin Nelson is a News Writer with Thrillist. He holds a Guinness World Record but has never met the fingernail lady. Follow him @dlukenelson.