Airport Workers Share The Absolute Craziest Things They've Seen On The Job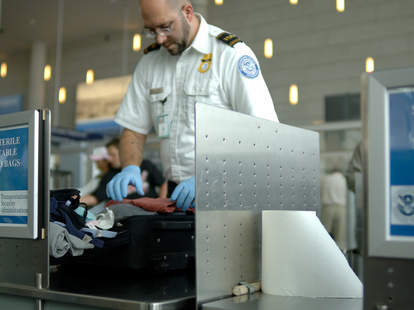 Working for an airline is surprisingly similar to working at the circus. Because hordes of people pass through them on a daily basis, Airports have a way of systemically unleashing the worst in everyone.
So for the airline rank-and-file, you'd imagine there's a lot to observe on the job. A Reddit thread recently asked airline and airport employees to share their wildest memories from the field, and it's a doozy, replete with rogue security personnel, cartoonish scenes of people falling down escalators and uh, frozen snakes. 
So what did we learn?
Cold Blooded Animals Freeze at Altitude
You Might Get Framed For Drug Trafficking 
Escalators Can Pose Serious Problems 
Beware Of People Planting Drugs In Your Bags 
Some Customers Will Ask To Fly The Plane 
At Least One Person Thinks They Were Reincarnated From An Airplane 
You'll See Absolutely Crazy Things Pass By In Baggage Scans 
You Don't Need Dental Records To Board a Plane 
But You Certainly Can't Smoke In The Terminal 
Inspection Dogs Occasionally Get Naughty 
Sign up here for our daily Thrillist email and subscribe here for our YouTube channel to get your fix of the best in food/drink/fun.
 
Sam Blum is a News Staff Writer for Thrillist. He's also a martial arts and music nerd who appreciates a fine sandwich and cute dogs. Find his clips in The Guardian, Rolling Stone, The A.V. Club and Esquire. He's on Twitter @Blumnessmonster.