You Can Get This Advent Calendar That's Filled With Reese's at Target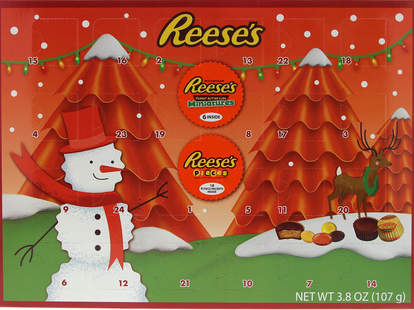 When I say there's an advent calendar for everything, I really mean everything. They're filled with wine, cat treats, hot sauce, and $112,000 worth of Tiffany's & co. jewelry. And while I hate to play favorites, I also can't not because Target is selling an advent calendar stuffed with 24 days of Reese's Pieces and Miniatures. Clearly, this is where my loyalties lie. 
The seasonal product is listed online for $5.99, which is, you know, a little more budget-friendly than that aforementioned Tiffany's version. Plus... you can't eat jewelry, so what's the point? It's stocked with 3.8 ounces of chocolate for the December countdown. 
Because it's a calendar stuffed with Reese's and there's nothing not to love about that, reviews appear to be positive: "My grandson loves Reese's so what better way to celebrate each day up until Christmas that with his favorite candy?" one user wrote. "He loved it so I guess we have started a tradition." Another simply added, "kids loved this tasty countdown." 
 
If you're still in the market for a boozy advent calendar (wine and chocolate are a great pairing), I gotchu: Macy's and Aldi both have vino-filled versions. Costco is selling one with 16-ounce cans of German Beer and, because it's the year of hard seltzer, there's a cal with Truly, White Claw, Cape & Line, and more. 
Sign up here for our daily Thrillist email and subscribe here for our YouTube channel to get your fix of the best in food/drink/fun.
Megan Schaltegger is a staff writer at Thrillist. Follow her @MegSchaltegger.