Reese's Is Giving One Lucky Fan $10,000 and a Year's Supply of Candy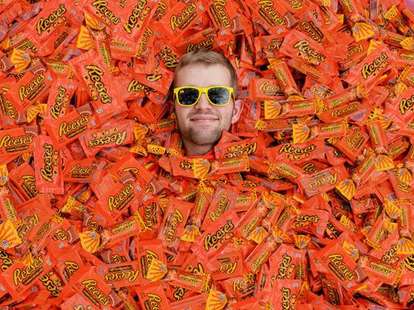 Courtesy: Reese's
Courtesy: Reese's
As far as candy companies go, Reese's seems pretty generous. For starters, the company will gladly send you an overwhelming care package if you have a problem with one of your peanut butter cups. Going above and beyond its normal remit certainly does wonders as a marketing gimmick, so it's no surprise the company's newest stunt will pay one lucky fan $10,000 for showing the most "outrageous" act of Reese's fandom.
To mark the release of Reese's new Outrageous Bars -- which pack creamy Reese's peanut butter and Reese's pieces candy, covered in milk chocolate -- the brand is asking fans to go the extra mile in expressing their fidelity to all things peanut butter cups.
To give you an idea of what Reese's is looking for, the company highlighted some past acts of extreme and borderline unhinged brand worship. Writing in a press release, Reese's recounts the story of Brad Whiteside, a Texas man who configured his fridge to dispense Reese's candies. There's also Jon Ernst from Ohio, who filled his entire bathtub with Reese's and documented the act (shown above). Needless to say, you're going to have to get creative here. The competition is going to be stiff and possibly sticky.
To enter the contest, which Reese's is calling Reese's Outrageous Bar and I <3 Reese's Day, do something to express your undying love of Reese's and document it on Twitter or Instagram with the hashtag #ReesesOutrageous #Contest between May 19 and June 1. The first 100 "qualified entries" will receive a box of new Reese's Outrageous Bars, while one unparalleled super-fan will get the $10,000 prize and a year's supply of Reese's candy.
It's only a matter of time before you all make complete and utter fools of yourselves to express your love for a candy company. Please do it responsibly.
Sign up here for our daily Thrillist email and subscribe here for our YouTube channel to get your fix of the best in food/drink/fun.
 
Sam Blum is a News Staff Writer for Thrillist. He's also a martial arts and music nerd who appreciates a fine sandwich and cute dogs. Find his clips in The Guardian, Rolling Stone, The A.V. Club and Esquire. He's on Twitter @Blumnessmonster.