Reese's Trolls Snickers With an Even Bigger World Record-Breaking Candy Bar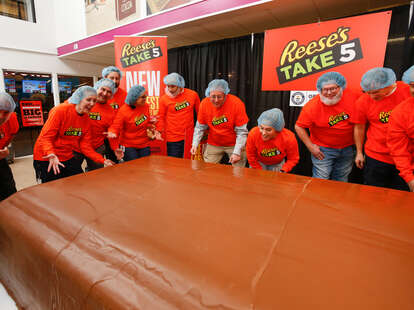 Courtesy of Reese's via the Associated Press
Courtesy of Reese's via the Associated Press
We thought it was petty when Popeyes decided to bring its chicken sandwich back on National Sandwich Day, which just so happened to fall on a Sunday -- the same day Chick-fil-A is notoriously closed. Smart, but petty. But here is something we might say is even pettier, in all of its amazing, strategic glory: Reese's has created the world's largest chocolate and nut bar, breaking the record that was set by Snickers only a couple weeks ago.
"The Reese's team believes records, even those just a few weeks old, are meant to be broken," Veronica Villasenor, senior director Reese's brand, said in a statement. "You might not have been familiar with Reese's Take 5 before, but now, the bar will become your newest obsession."
In total, the bar measures 9ft long, 2ft high, and 5.5ft wide and weighs in at 5,942 pounds. It took 40 Hershey's employees and five days to create the monstrous candy bar which, considering this candy bar is a world record-breaker, seems entirely efficient. For comparison, Snickers' version weighed in at approximately 4,700 pounds and took 15 employees to create.
We're just wondering if Snickers will have the time, energy, will-power, and extreme pettiness to respond. But perhaps more pressing is the question of who the hell gets to eat this thing? Sign us up.
Sign up here for our daily Thrillist email and subscribe here for our YouTube channel to get your fix of the best in food/drink/fun.
Kat Thompson is a staff writer at Thrillist. Follow her on Twitter @katthompsonn.